J
John McCain opened Pandora's box with the nomination of Sarah Palin for the Vice Presidency of the United States.  That fatal moment came on August 29,2008, almost 10 years to the date.  Less than a year later Palin resigned as Governor and has tried to capitalize on her fame.  She worked for Fox News but was terminated in June of 2015.    She attempted stardom in Amazing America and Sarah Palin's Alaska.  She hoped for a spot on a reality television show as a Judge, but evidently the fact that she wasn't a judge was a difficult sell.
During John McCain's life he tried to apologize for his reckless act of inflicting Sarah Palin on America.  Before he died he admitted to the New York Times that he regretted the choice of Sarah Palin as his running mate.
John McCain died on August 25, 2018.  The McCain family was so embarassed by Sarah Palin that she was not invited to John's funeral. The McCain family didn't even convey the non-invite  personally.  Today, less than one month after McCain's death, Palin announced she and Todd would be moving from Alaska.  The timing of that announcement has to be significant.  To think the ten years has passed since her nomination, and she stayed in Alaska, and less than a month after McCain's death she announces she is moving, is too close to be coincidental.  Remember that we thought she was moving to Arizona when she bought a home there.
As many things as Sarah Palin has done to damage America, it is astounding that she is still popular with an uneducated and easily
manipulated segment of the populatio
n.  The mere fact that she was invited to endorse Trump is an indication that her presence is still a danger.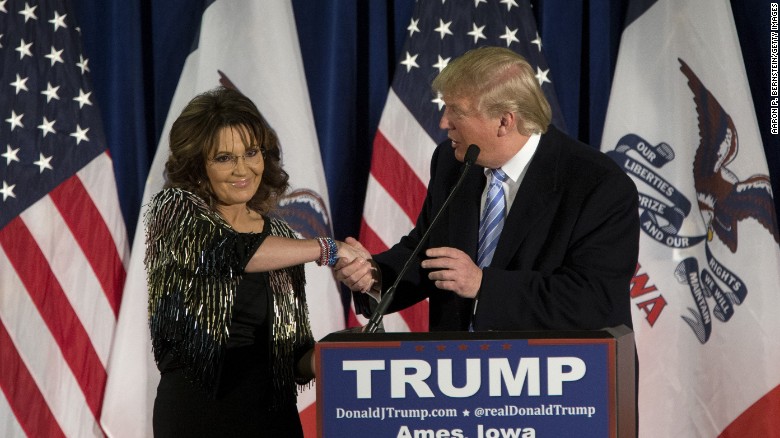 The fact that America elected Donald Trump makes the Palin connection even more  disturbing.
In the announcement of the move, Palin said:
"I want to do something that will influence our culture,"
"To really remind people how important a work ethic is and to try to erase a lot of this idea that people have that government owes them anything. Or that anybody owes them anything."
Palin said she still wants to be in "some positions here to get that message out there, how important it is to be independent, get out there and work for yourself."
Palin then used the opportunity of the announced move to warn fellow Republicans that "… they're acting like victims and they're always on defense," she said. "That's not what the supporters of the platform expect."
"We expect to be on offense in order to clean things up — drain that swamp — get government back on our side and get it off our backs and quit playing victim all the time!"
"You're not going to win a ballgame only playing defense," she added.
Palin said she still supports the president's policies and is "very thankful for the Trump movement."
The timing of the announcement, the fact that Arizona and New Mexico are possible destinations, the fact that the announcement is replete with references to politics including "drain the swamp", are each red flags.  Palin is coming to the mainland, and we can bet the shrill of her voice is only going to get louder as time goes by.