Today's focus should be on the accusations of Christine Blasey Ford, who has accused Brett Kavanaugh of sexual assault. Who is Ms. Ford?  She is not a porn star or a former playboy bunny.  She is a clinical psychology professor at Palo Alto University.  As a biostatistician, she "specializes in the design and analysis of clinical trials and other forms of intervention evaluation," according to the university.  Her work has been published in several academic journals, covering topics such as 9/11 and child abuse.  She has also held the prestigous post as a teacher at  Stanford University since 1988.
It was Fox News that reported that Russell Ford, Professor Ford's husband, has not only confirmed that his wife has reported this incident long before Trump was even a candidate for President, or Kavanaugh was nominated for a position on the Court.  He told The Washington Post that his wife detailed the alleged assault during a couple's therapy session in 2012. During therapy, he said his wife talked about a time when she was trapped in a room with two drunken boys, and one of them had pinned her to a bed, molested her and tried to prevent her from screaming.
He said he remembered his wife specifically using Kavanaugh's name. She said during the session, Russell Ford recalled, she was scared he would one day be nominated to the Supreme Court.  Mr.Ford voluntarily provided a copy of the therapist's notes to The Washington Post, which detailed his wife's account of being assaulted by young men "from an elitist boys' school" who would become "highly respected and high-ranking members of society in Washington."  Additional notes from a later therapy session said she discussed a "rape attempt" that occurred when she was a teenager.
Ford alleged in her letter that Kavanaugh held her down at a party and attempted to force himself on her. She claimed that Kavanaugh and his friend, who had been drinking, turned up music to muffle the sound of protests, and Kavanaugh covered her mouth with his hand. She was able to free herself.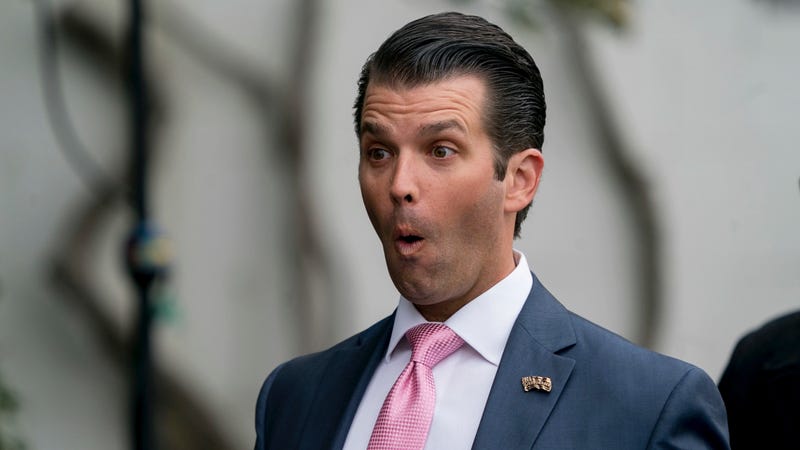 Donald Trump Jr.'s fake letter about the incident includes a misspelling of "Feinstein," laughing emojis, and the hashtag MAGA, which stands for Make America Great Again.
Oh boy… the Dems and their usual nonsense games really have him on the ropes now. Finestein had the letter in July and saved it for the eve of his vote… honorable as always. I believe this is a copy for full transparency. 🤣🇺🇸🤣🇺🇸🤣 #politics #maga
Just this morning, Dr. Ford's  lawyer told CNN that she'd be willing to testify in front of the U.S. Senate.
It is a tragic state of affairs when a college professor comes forward with a humiliating, verified account of a sexual assault, and is willing to testify under oath in a public hearing about it, and she is ridiculed and belittled.  It's horrible enough that it happened.  It's worse that her assailant is being considered to serve on the United States' Supreme Court.  It's unforgivable that the President's son feels so powerful that he can insult this woman who had the courage to come forward.  Shame on Kavanaugh, Trump and Trump Jr.!