The name "Sarah Palin" seems to evoke images of foolishness, gullability, lack of education, and stupidity.  Who would run for one of the highest offices in the land and not read newspapers, not know that our enemy is North Korea, not realize that Paul Revere was warning the Americans that the British were coming, and think that the way to solve the Gulf Oil Spill was to build a dike?
Last night was the final episode of Sacha Cohen's Who is America?  The actual interview with Palin was omitted.  However Cohen got the last laugh by NOT including the interview, but by giving Palin credit at the end as an "inadvertent publicity consultant."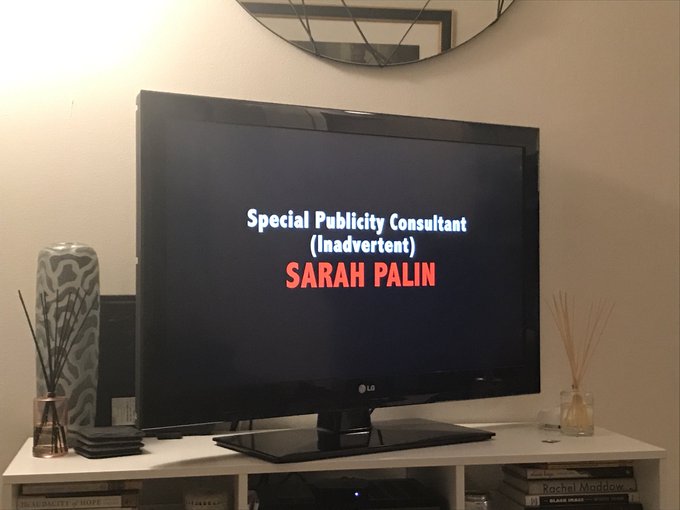 It was Sarah Palin who admitted and publicized the fact that she was "duped" by Sacha Cohen in the filming of Who is America?  It was her announcement that she was duped that generated major excitement for the show.  Sarah Palin objected to Cohen's interview in a Facebook post.  In addition to admitting that she had been "duped" Palin admitted that she was foolish enough not to pay attention to the airport where she was scheduled to depart, and thus missed her flight. 
She also issued a challenge to Cohen, calling him "shallow Sacha boy."  She challenged him to air the footage.  Sarah added that her daughter thinks Sacha is a piece of shit…which is rather ironic since shit was the subject of at least one interview.
Taking advantage of the publicity, Sacha Baron Cohen has hit back at Sarah Palin after she branded the comedian "evil, exploitive" and "sick" after posing as a wounded US veteran to get an interview for his surprise new series.
In character as Billy Wayne Ruddick Jr, PhD, Cohen responded.
He released a statement under the guise of a right-wing journalist branding her comments as "FAKE NEWS".
The letter reads: "I did NOT say I was a War Vet. I was in the service – not military, but United Parcel and I only fought for my country once – when I shot a Mexican who came onto my property."
Thus by publicizing her outrage, Palin caused a media frenzy that brought the show to the attention of America.  She became the inadvertent publicist for the show by advertising both her stupidity and her outrage.  Evidently Americans like to watch examples of things that cause Palin to be outraged and highlight her stupidity.