Noone will ever forget Donald Trump's disrespect of John McCain, a senator who was the Republican nominee for President in 2008. Trump disrespected McCain, not only because he was taken prisoner of war, but also because he lost the 2008 election.
Trump would only double down on those comments in the next few days, calling the war veteran "yet another all talk, no action politician" who has "done very little for veterans."
John McCain served in the military as a naval aviator and served in the Vietnam War.  During a bombing mission during Operation Rolling Thunder over Hanoi in October 1967, he was shot down, seriously injured, and captured by the North Vietnamese. He was a prisoner of war until 1973. McCain experienced episodes of torture and refused an out-of-sequence early repatriation offer. The wounds that he sustained during the war left him with lifelong physical disabilities. He retired from the Navy as a captain in 1981.  In 1982, McCain was elected as the Arizona Representative to the US House of Representatives, where he served two terms. He entered the U.S. Senate in 1987 and easily won reelection five times, the last time in 2016.  That means he was a Senator for more than 24 years.
Make no mistake.  McCain was a flawed man.  However his last vote on the effort to repeal nationalized health care was a testament to his committment to, and concern for , the American people.  It was a clear indication that he was willing to depart from voting along party lines if he perceived that his party was wrong.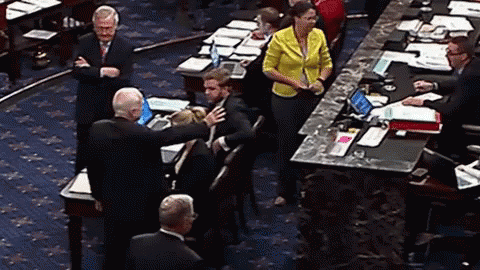 '
Trump has a long history of criticism of McCain and disregard for our military.   Trump received five deferments from service in Vietnam, for both academic reasons and bone spurs.  Senator Tammy Duckworth (D-Ill.) , who lost both of her legs in 2004 while serving in the Iraq war, said to Trump:
"I have a message for 'Cadet Bone Spurs,'" she said. "If you cared about our military, you'd stop baiting Kim Jong Un into a war that could put 85,000 American troops, and millions of innocent civilians, in danger."
Remember when Trump disputed remarks made by a pregnant Army widow whose husband was killed in Niger. Trump said he knew what he was getting into.
Perhaps the most memorable disrespect of Trump towards the military came when he disparaged the Gold Star family of Humayun Khan, a Muslim soldier killed in an Iraq suicide attack in 2004.
Then there was the veteran who gave Trump a "Purple heart" medal during a campaign speech — and the future commander-in-chief saw no problem in accepting it.  "I always wanted to get the Purple Heart. This was much easier," he said.  Veteran groups and Purple Heart recipients slammed Trump for not even thinking twice about keeping the second hand honor.
Trump dishonored vets of the Vietnam War by comparing the war to his challenges of sleeping around with women who might have sexually transmitted diseases.  "It is a dangerous world out there — it's scary, like Vietnam," he said in a 2004 clip dug up by BuzzFeed News.
Trump promised to send a $25,000 to the financially struggling Chris Baldridge, whose son was killed by an Afghan police officer in June.  The vow came during a condolence call after Army Sgt. Dillon Baldridge and two comrades were slain, but Baldridge said four months later that the check never came.
John McCain, Arizona senator and former Republican presidential candidate, has died.  He finally lost the battle with cancer at the age of 81.  Before he died he specifically indicated that he did NOT want President Trump to attend his funeral service.   Former rivals and Presidents Barack Obama and George W. Bush have been invited to give eulogies.
Trump never 
publicly acknowledged 
the rapidly declining health of McCain.  Even after McCain's family announced Friday he would be discontinuing treatment for his brain cancer Trump couldn't spare even a tweet.  Now that McCain has died the President has acknowledged the death with a tweet and a photo posted the 
accompanying photo. 
The photo is not of John McCain.  It is a photo of
himself
.
Vice President Mike Pence also tweeted his condolences, writing that he and second lady Karen Pence "honor his lifetime of service to this nation in our military and in public life. His family and friends will be in our prayers. God bless John McCain."
Trump couldn't
even bring himself to mention John 
McCain 
when thanking multiple members of Congress involved in passing the
John S. McCain National Defense Authorization Act
at a signing ceremony.
In life and in death Donald Trump disrespected John McCain.  Trump's problem with McCain had nothing to do with the Keating Five, or his selection of Sarah Palin as his running mate.
Trump attacked McCain quite simply because McCain was not willing to pretend to support Trump.  Without naming Trump 
during an October speech accepting the National Constitution Center's Liberty Medal in Philadelphia
, McCain assailed the president's worldview as
"some half-baked spurious nationalism cooked up by people who would rather find scapegoats than solve problems."
It was, McCain continued,
"as unpatriotic as an attachment to any other tired dogma of the past that Americans consigned to the ash heap of history."
Even S
arah Palin had kind
words to say about McCain even though he had made his remorse known about his choice of Palin as his running mate.  It was just
two months ago, as
McCain knew he was dying, that he finally admitted that he regretted his choice of Palin as his running mate.