An onomatopoeia is a word formed from the sound associated with it.  For example "bing" and "bong" sound like a bing and a bong.
Trump probablly doesn't know what an onomatopoeia is, but he does like the sound of his voice saying "bing" and "bong".  Many people don't like the sound of Trump's voice or the recognition he's received by having his star on the Hollywood Walk of Fame.  However visiting the star has become a national pass time, especially for those who oppose Trump and all for which he stands.
His star has been covered in stickers sending a message.
Recently someone took a picax to it.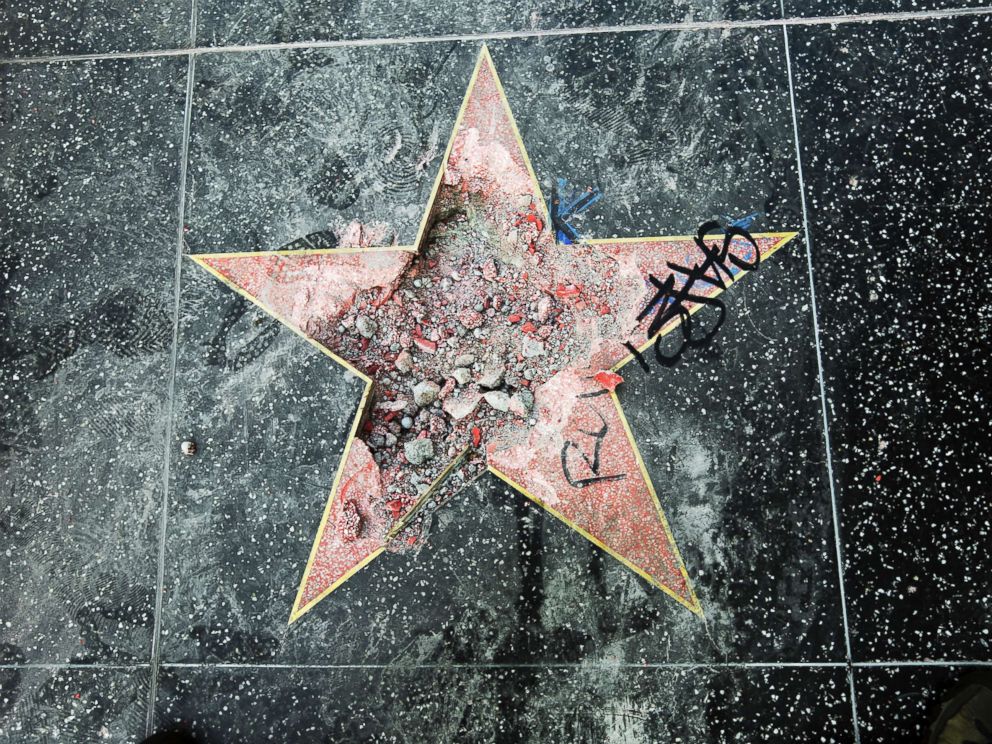 The West Hollywood City Council has passed a resolution to remove Trump's star…permantly.  Whether it was his belittling and attacks on minorities, immigrants, Muslims, people with disabilities or women. Trump no longer deserves to be honored with a star on the Hollywood Walk of Fame.
The Hollywood City Council can pass a resolution, but they have no authority to actually remove the star.  The Hollywood Chamber of Commerce, which does have jurisdiction over the iconic tourist attraction, said Trump's star was safe for now.
No stars have ever been removed.  However it appears that in the case of Donald Trump, an exception might be made.  His star is becoming a public nusiance.
Comedian George Lopez pretended to pee on President Trump's Star by placing a water bottle near his crotch and pouring the contents onto the plaque while grimacing.  That was after George sold a jacket with messages that read "keep the kids" but "deport the racist" in protest of the Trump administration's "zero tolerance" immigration policy.
The star on the Hollywood Walk of Fame has been defaced with a slew of stickers that highlight Trump's  misogyny, transphobia, corruption, homophobia, xenophobia … to name just a few.  The star has also had  a golden toilet placed on it.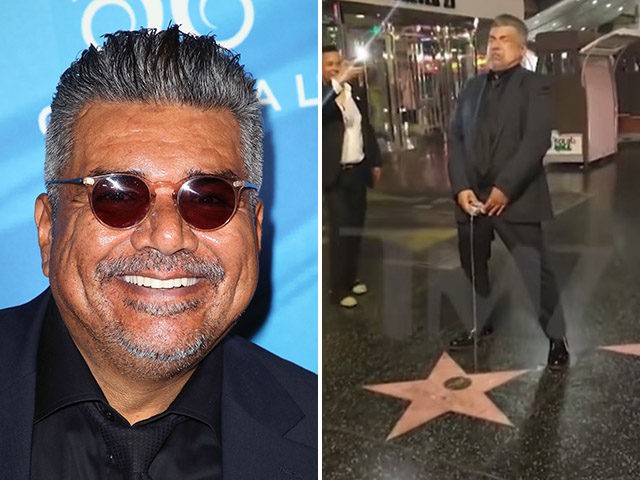 If the star is permanently removed perhaps Hollywood could initiate a Walk of Shame and the Trump star could be the first featured star.  People would be allowed to descrate the star and thus the star would be a public service, providing a theraputic way to aleviate stress caused by President Trump.