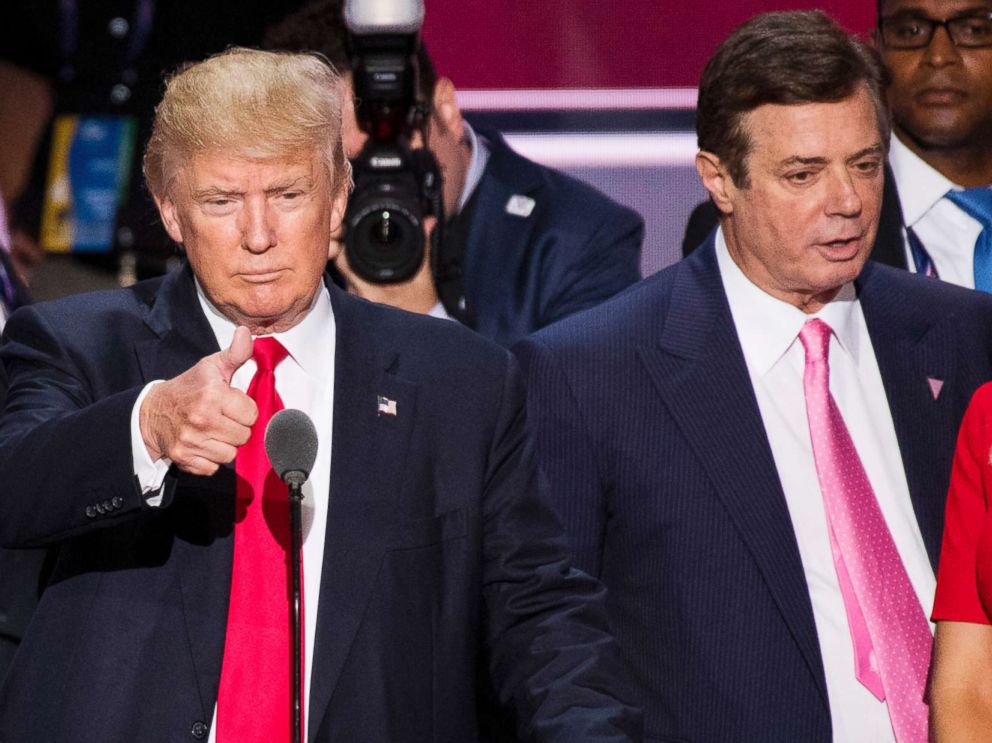 Paul Manafort, the previous campaign chairman of Donald Trump, has been on trial this week for criminal charges of bank fraud and tax fraud.  The evidence has been "overwhelmingly against him."    Perhaps the most damaging testimoney came from  Manafort's accountant who was given immunity from prosecution.   She testified this week that she sent false documents and misrepresented a home so that Manafort could get a mortgage on one of his New York City properties. She is the first witness to take the stand who has been granted immunity.
Manafort might have assumed that his communications with his accountant were privledged.  However his communications with her ARE NOT protected.
So, if Manafort is convicted what does it mean for Trump?  Couldn't Trump simply pardon Manafort?  The answer is that yes, Trump could pardon Manafort for any conviction of a federal crime, but not a state crime.  Certainly Manafort may expect a pardon, given the President's past statements and shameless use of the pardon power in the Arpaio case. And the President may use that power to keep Manafort and other witnesses from cooperating and to ensure continuing impunity for his family members and associates for federal crimes.
Trump has not yet pardoned anyone involved in Russian investigation.  At first blush you might wonder why Trump wouldn't preemptively pardon them to try to influence them not to testify.  However, if someone like Flynn or Kushner were preemptively pardoned, he wouldn't be able to plead the Fifth Amendment if he were called to testify against Trump. The Fifth Amendment protects citizens against self-incrimination. But if someone has been pardoned, they no longer face the threat of prosecution, and so they can't use a desire to avoid incriminating themselves as an excuse not to answer a question.
There is, however, one scenario in which Trump could save himself and others from potential prosecution. It's what Susan Bloch, a law professor at Georgetown, calls the Nixon scenario: "Trump pardons them [Flynn, Kushner, Manafort, and Donald Trump Jr.] as he is exiting the White House and Trump exits early, allowing Pence to become president.  Pence could then pardon Trump. Trump will then have successfully shielded himself and his colleagues from criminal liability."  However Pence could only pardon this group of conspirators from federal crimes.  Further, if the President issues a pardon in order to influence a witness and impede the investigation, that would also be an act of obstruction. Although he has the legal authority to pardon, he cannot use that power to commit a crime. A defendant in, say, a fraud case also has the "power" to shred documents that belong to her, but doing so with the intent to shield those documents from a pending investigation would be criminal obstruction.  Thus Pence would potentially be exposed for obstruction if he pardoned this group of criminals.
There has already emerged documents that reveal significant exposure for Trump of federal tax fraud.   Trump reportedly used hundreds of thousands of foundation dollars to settle legal cases and buy portraits of himself that hang at Trump properties, which are specific examples of self-dealing. Those foundation expenditures were income, and unless Mr. Trump reported that income, he could be prosecuted for criminal tax fraud.
It appears Trump may have also committed gift tax fraud.
A limited liability company managed by Trump sold two condominium apartments to another limited liability company managed by Eric Trump. They were on the 13th and 14th floors of a 14-story, full-service, doorman building at 100 Central Park South in Manhattan. This is a prime Midtown neighborhood, yet the sale price for each condo was just $350,000. Although the condition and square footage of apartments 13G and 14G are not readily known, a popular real estate website shows that G-line apartments on both the fifth and eighth floors are one-bedroom, one-bath units of just over 500 square feet. Two years before the Trump transaction, apartment 5G sold for $690,000. Maybe the two units in question were in terrible shape, but two months before the sale to Eric Trump's LLC, they were advertised for $790,000 (on the 13th floor) and $800,000 (on the 14th floor).
On June 14, the New York State attorney general, Barbara Underwood, filed a civil complaint against President Trump and his three oldest children, accusing them of "persistently illegal conduct" in using the Donald J. Trump Foundation as "little more than a checkbook for payments from Mr. Trump or his businesses to nonprofits, regardless of their purpose or legality."
Ms. Underwood believes there is abundant evidence to bring criminal charges against Mr. Trump as well. She made that position very clear in the letters she sent to the Internal Revenue Service and the Federal Election Commission in Washington recommending "further investigation and legal action."
Ms. Underwood sent those letters, at the same time she filed the civil complaint, because New York state law does not grant her automatic authority to initiate criminal investigations. Her criminal referral to Washington noted that it would be a crime for the president to interfere in such an investigation. However, given Mr. Trump's assertion that he has the power to halt any criminal inquiry and to pardon himself for federal crimes, a criminal investigation by any part of the federal executive branch seems highly unlikely.
The attorney general could, however, easily gain that authority. All that's needed is for Gov. Andrew Cuomo, the New York State Police or the state Department of Taxation and Finance to make a request, and the authority would be granted to her.