In spite of Trump's claim that more people attended his inauguration than Obama's, the photographs told the real story.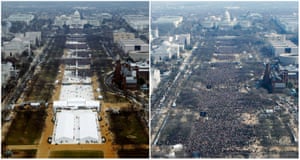 Trump has drawn huge crowds in Britan, but they are protestors, not supporters.
Organizers of the Edinburgh protests estimate around 50,000 protestors turned out to make their objections clear.  Police estimate that the numbers were closer to 10,000 to 12,000.
Thousands of protesters turned out to protest in London's iconic Trafalgar Square.
Even half that, 50,000, would be the biggest weekday protest in London's streets since demonstrations against the Iraq war in 2003.
Whatever the actual number of protestors in any particular Britan city, it is clear that Trump has drawn more protestors in Britan than supporters in America for his inauguration.  Britan anticipates protests in more than 60 locations in Trump's four-day visit.