Nobody has ever suggested that the Federal Government is frugal with our tax money.  Breitbart has reported the waste of billions of dollars.  However it is important to put any criticism of spending in perspective.
Trump has lached onto an Associated Press report that the Investigation of the Russian Interference has now cost our government over $17 million, and going up fast."
— President Trump, in a tweet, June 1, 2018
"… At what point does this soon to be $20,000,000 Witch Hunt, composed of 13 Angry and Heavily Conflicted Democrats and two people who have worked for Obama for 8 years, STOP!"
— Trump, in a tweet, May 20, 2018
"… the World's most expensive Witch Hunt has found nothing on Russia & me so now they are looking at the rest of the World!" 
— Trump, in a tweet, May 20, 2018
Even if those numbers are correct, they don't give any perspective.  President Donald Trump has railed against Special Counsel Robert Mueller's Russia investigation as a waste of money, for the last several months.  The reality is that the attorneys who are investigating Trump have taken a pay cut for the privilege of working on the investigation.  Some have sacrificed more than  $1 million to serve on this investigation, which is so crucial to a future of our country.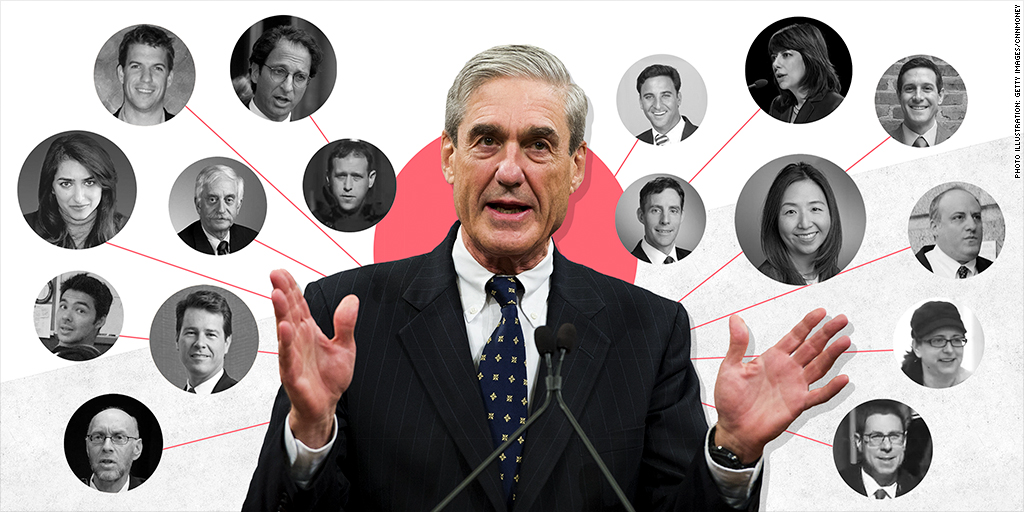 Mueller team's spending rate is in line with historical trends, if not below them. For instance, the independent counsel investigation into President Bill Clinton spent $7.9 million in onesix-month period in 1999, adjusting for inflation. Mueller's team reported $4.5 million in direct expenses for the six months from October 2017 through March 2018.
The independent counsel investigation into the Whitewater dispute, the Monica Lewinsky scandal and other Clinton issues cost $59.9 million.  Lawrence E. Walsh spent $47.4 million in the 1980s Iran-contra inquiry.
It's also important to note that many of these salary and benefit costs would be paid anyway, since much of Mueller's team consists of employees who already worked for the federal government and were detailed to the special counsel's investigation. Last, it's worth keeping in mind that Mueller is adding $9 million in a category of indirect costs that no other special counsel reported previously.
Perhaps more importantly taxpayers should consider the salaries the attorneys could be earning who are working on the investigation.  The average salary for a Lawyer in D.C. is $135,185.    Mueller is one of six top attorneys on the investigative team who earn $161,900 annually, according to a Department of Justice document reviewed by MONEY.
Four of them — Mueller himself plus Jeannie Rhee, James Quarles and Aaron Zebley — had been partners at the international law firm WilmerHale, where according to the Washington Post, they drew incomes ranging from $1.4 million to $5.8 million over 2016 and the early part of 2017.
Mueller's own pay for the period was $3.4 million.
On May 20, Trump blasted Mueller's investigation into possible Russian interference in the 2016 presidential election as "the World's most expensive Witch Hunt." Five days later, Trump's lawyer Rudolph Giuliani called the probe "a waste of money."
"When will this very expensive Witch Hunt Hoax ever end?" Trump tweetedearlier this month.
A $161,900 salary matches the top yearly salary possible for Washington D.C.-based federal employees who appear on last year's general pay scale for federal employees. DOJ attorneys, with a few exceptions, are covered by that general pay scale, the DOJ website says.
As of April 24, 2018, two months ago, President Trump had visited Mar-a-lago at least 17 times since his inauguration, at a cost of roughly $3 Million each.  That means that Trump's trips to Mar-a-lago have cost US taxpayers more than $51 Million Dollars, roughly THREE TIMES the cost of the Mueller investigation! The amazing thing is that Trump is complaining about expenses incurred due to the necessity of investigating him.  He suggests that the investigation isn't reasonable, but it is reasonable for him to pay himself , as the owner of Mar-a-lago, three times the sum required to fund the Mueller investigation.
As of November 30, 2017 Trump spent $144,975 on golf cart rentals alone, for the Secret Service.  That means Trump used tax payer money to pay himself for the Secret Service agents to watch him play golf.