During the 2016 campaign it was undisputed that Donald Trump was no stranger to lawsuits.  USA Today reported that he had been involved in over 3500 legal actions in federal and state courts during the past three decades. They included skirmishes with casino patrons, million-dollar real estate suits,  and personal defamation lawsuits.
During the year before his candidacy at least 70 new cases were filed.  At least 1150 civil lawsuits remained open seven weeks before the Republican National Convention.
The legal actions provided clues that if elected Trump would likely continue as President to threaten those who disagree with the full force of the Courts and attorneys.  Trump has a history of responding to even small disputes with overwhelming legal force. He doesn't hesitate to deploy his wealth and legal firepower against adversaries with limited resources, such as homeowners. He sometimes refuses to pay real estate brokers, lawyers and other vendors.  Now that he is President, his legal resources are limitless.  He can authorize any lawsuit and charge taxpayers for the legal fees.
Here are just a few examples of countersuits filed by Trump, not because the counterclaims had merit, but because it was a litigation strategy of outspending an opponent because you have wide disparity in monetary resources.
 Trump sued Palm Beach, citing free speech.  It was a countersuit when he was given a small fine over a flag at Mar-a-Lago Resort.  In 2006, Palm Beach fined Trump for an oversized American flag, and he swung back with a $25 million lawsuitfor infringing on his right to free speech. The two parties eventually settled.
On another occasion Trump failed to pay a loan and Deutsche Bank sued Trump for $40 million regarding a $640 million loan he took out to build the Trump International Hotel and Tower in Chicago. But, as we know, Trump likes to counterpunch. So he did — in the form of a $3 billion countersuit claiming his reputation was damaged.
In another case Trump was accused of spying and conspiracy.  In the '90s Trump endured a long legal battle — involving suits, countersuits, and allegations of spying and conspiracy — with Steve Wynn, a rival casino owner in Atlantic City.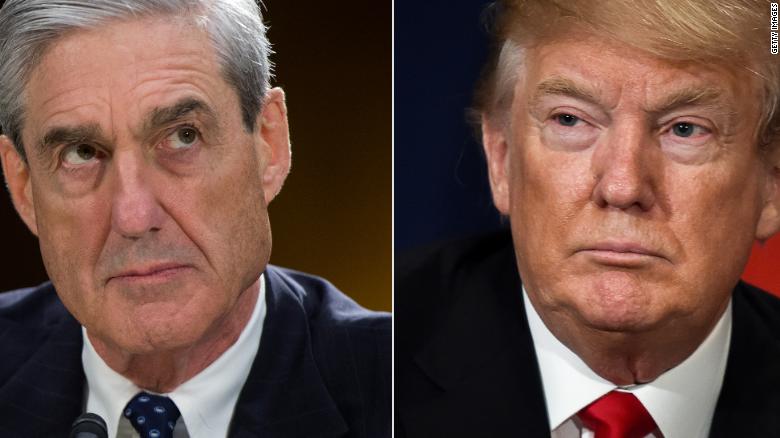 It's been one year since Robert Mueller was appointed special counsel to oversee the investigation into ties between President Trump's campaign and Russian officials.  Ever since Trump has characterized the investigation as a "witch hunt," probably over 100 times.
As the Mueller investigation gets closer and closer to Trump, the President now suggests that  "angry Democrats" on special counsel Robert Mueller's team could face legal action over alleged "conflicts of interest."
"The 13 Angry Democrats in charge of the Russian Witch Hunt are starting to find out that there is a Court System in place that actually protects people from injustice…and just wait 'till the Courts get to see your unrevealed Conflicts of Interest!" Trump said.
Trump did not provide proof of the alleged conflicts. Although CNN 
has reported
 that several members of Mueller's team have donated to Democrats, Russia's meddling in the 2016 election also has been the subject of several Republican-led congressional inquiries.
Mueller is a Republican who was appointed by President George W. Bush, and the man who appointed him as special counsel, Deputy Attorney General Rod Rosenstein, was appointed by Trump
.
The President also weighed in on other recent developments in the Russia investigation. He denied that he's obstructed the probe, instead defending his actions and rhetoric as "fighting back" against "the Russia Witch Hunt."
Last month, Trump 
hinted to "Fox & Friends"
 that he might "at some point" step in and take action against the Justice Department, which is overseeing the special counsel investigation.
 As we contemplate such a suit, ask yourself "Who would pay the legal fees…for both sides?"  The answer is the
taxpayers would be paying for the attorney fees of the government suing the government.  We the taxpayers lose either way!