Us Weekly reports that Melania Trump is deeply distressed following Stormy Daniels' and Karen McDougal's recent claims that they had affairs with her husband.
Melania is "very, very unhappy with her life," and "If she could, she would get away from Donald and just be with her son."
Karen McDougal thought both she and Trump were were in love.  
Karen McDougal told Anderson Cooper she saw Trump at least five times a month through 2006 until April 2007, when she ended the relationship. She said they slept together dozens of times without protection and that she was unaware Trump was apparently seeing other people, including porn star Stormy Daniels.
"He was so sweet," McDougal said. "Like what everyone sees on TV, I didn't see in that man. Because that man was very sweet, very respectful, very loving, very kind and caring. That's the man I saw."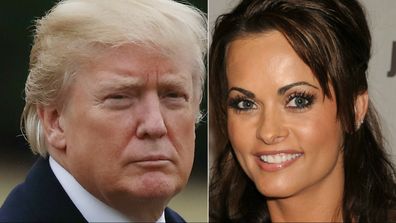 Former Playboy model Karen McDougal has reportedly been let out of a contract with the parent company of The National Enquirer and can now freely discuss her alleged affair with President Trump.
McDougal reached a settlement Wednesday with American Media Inc. (AMI), freeing her from the deal for the exclusive rights to her story, The New York Times reported.
McDougal had sued to be released from the agreement, claiming she was misled about the terms. She also claimed that Michael Cohen, Trump's personal attorney, inappropriately intervened in the deal.
The publisher, whose chairman, David J. Pecker, is a friend of Trump's, purchased the rights to her story for $150,000 ahead of the 2016 election but never ran any pieces on it.
"Today, I'm doing my victory dance," McDougal told the Times, adding she currently has no plans to sell her tale to a second buyer.
"It's a total win," said her lawyer, Peter K. Stris. "We got everything we were fighting for — she got out of the contract, gets the life rights back and owes A.M.I. nothing more."
It's unclear what Michael Cohen did that was allegedly inappropriate, but it seems oddly cooincidental that this deal was struck with McDougal immediately after Cohen's offices were raided.
Certainly Donald Trump has no objection to divorce and re-marriage. Trump was married to Ivana 15 years.  He was married to Marla Marples 6 years.    Trump's been married to Melania   13 years.         Perhaps it's time for another change?
McDougal is 47 now.  Melania is also 47, so maybe the Donald will opt for a younger woman?