It's almost laughable to think that anyone would be surprised to know that there was proof that Donald Trump had sex with a woman who wasn't his wife?  Would anyone be surprised that Trump has been involved with Prostitutes?  Certainly the fired director of the FBI, James Comey, has indicated that Trump may have been involved with prostitutes in Russia.  Even before the election we knew that Trump bragged about the women he had his way with.
Remember the time during Trump's first marriage when he brazenly took his mistress, Marla Maples, on a 
family vacation in Aspen
 along with his wife, Ivana, and attempted to hide her away until she approached Ivana and said,
"I'm Marla and I love your husband. Do you?"
A famous issue of the New York Post in 1990 featured a quote from Maples plastered across its front page—"Best sex I ever had!" referring to Donald—while he was still married to Ivana. Trump famously pushed the story forward and called the tabloids to make sure his name stayed in the papers. At the time, he was a prominent New York real estate figure, but not known for much more than that.
In a recent memoir, titled Raising Trump, Ivana refers to the mistress as "freaking Marla."
When Trump was dating Marla Maples, he famously posed as his own spokesman, "John Miller," and told a People reporter that he'd never marry Maples.  Mr. Miller indicated Trump had "three other girlfriends" at the time.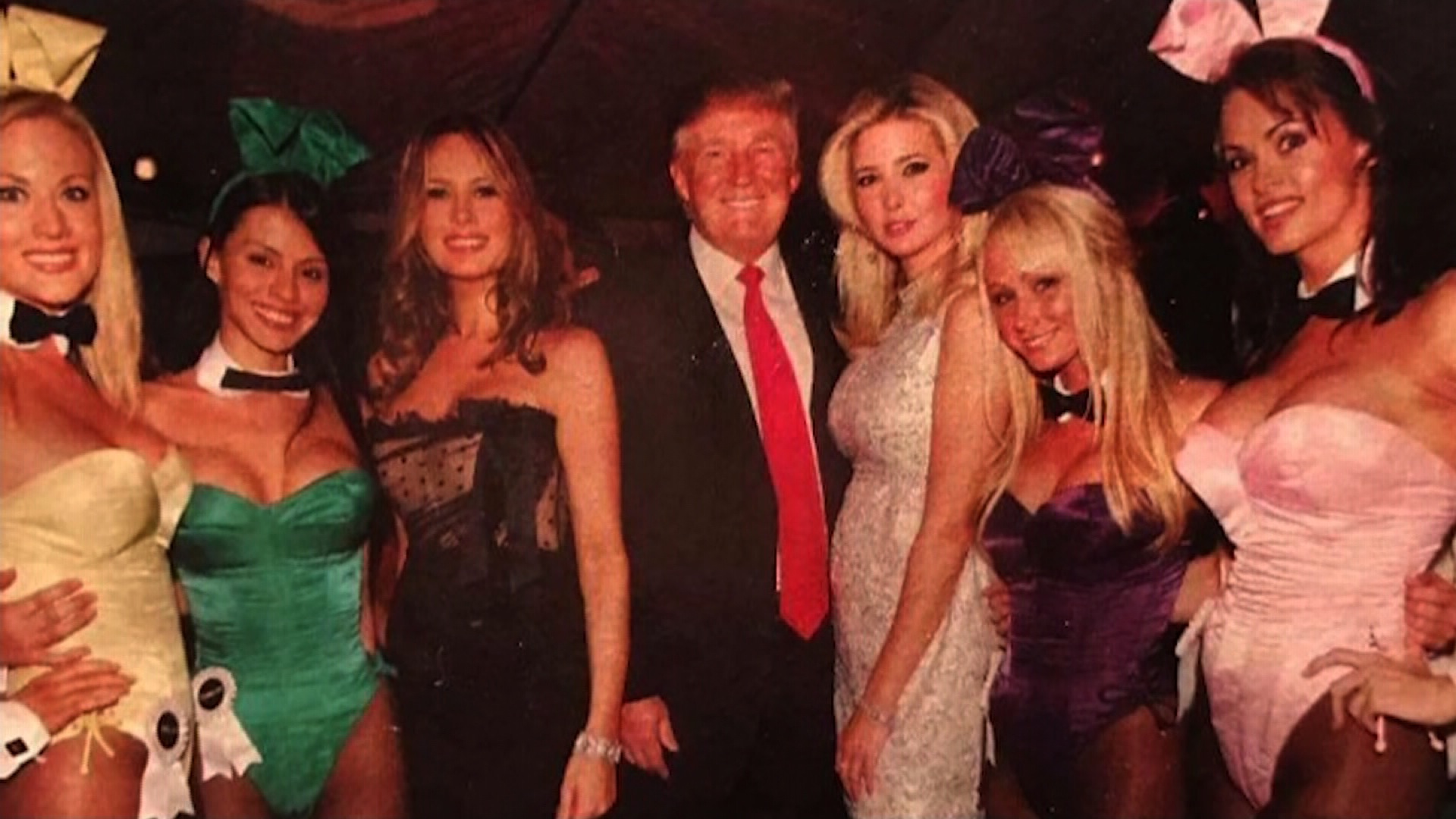 The Wall Street Journal also reported on an affair in 2006 with Karen McDougal, the 1998 Playmate of the Year.   McDougal entered into an agreement between McDougal and the National Enquirer, which paid her $150,000 for the story, and then never printed it.
Nineteen women
 have come forward to accuse
Trump of sexual harassment.
The public allegations range from the 1980s to 2013, and they include former contestants on 
The Apprentice, 
an adult film star, a journalist at 
People Magazine, 
a journalist at 
Fox News 
and many others. Many of those incidents reportedly happened while Trump was married.
Thus it seems there is an undisputed history of Trump sexual exploints, whether married or not.  It wouldn't be the first or last time a President of the United States has been unfaithful to his spouse.  However if Trump, or someone acting on his behalf, threatened a sexual partner with physical harm if she didn't stay quiet, that would be a first.  At least it would be the first time someone came forward and reported the threats.
Stormy Daniels has reported that such threats were made to her.  This is the sketch of a man described by Stormy Daniels who she reported threatened her in 2011.  This man threatened her with physical harm if she didn't remain quiet about her sexual encounter with Donald Trump.
Daniels and her attorney Michael Avenatti are offering a
$100,000 re
ward for any information about this man.
It is undisputed that Michael Cohen paid Daniels $130,000 just before the 2016 election.  That payment could count as an illegal contribution to President Trump's campaign.  Trevor Potter, president of the Campaign Legal Center, said if Mr Cohen did this on Mr Trump's behalf, "that is a co-ordinated, illegal, in-kind contribution by Cohen for the purpose of influencing the election".
Democrats Ted Lieu and Kathleen Rice, representatives for California and New York respectively, have asked the FBI to investigate Mr Cohen's payment to Ms Daniels.
However the bigger problem for Donald Trump and Michael Cohen is the extent to which Trump and/or Cohen have gone to intimidate women.  If they threatened any of these women that would be criminal conduct.  It's not against the law to be unfaithful to a spouse.  It is unlawful to make threats of harm to someone.
Today President Trump has tweeted about this matter.  Here is his tweet:

Donald J. Trump
✔@realDonaldTrump
Trump's main Twitter account lists 32.4 million followers. He has a  @POTUS Twitter account (18.8 million followers), Facebook pages (22.4 million likes and 1.7 million followers), YouTube subscribers (103,000 and 4.3 million), and Instagram (7 million followers). Added up, that's
86.7
million followers.
For the President of the United States to rely on his social media account to comment on anything said or done by a porn star is deeply troubling!  The fact that Trump is commenting give credibility to the story.  It is shameful and embarrassing for the President of the United States to be devoting any time to refutting any allegations made by a porn star.
It is also evidence to me that somebody may have criminal exposure for assault.  An assault can be a verbal threat.  Even if Stormy Daniels can't prove that Trump was involved in hiring this man who threatened her, his tweet might be enough to demonstrate to a jury that he was complicit.