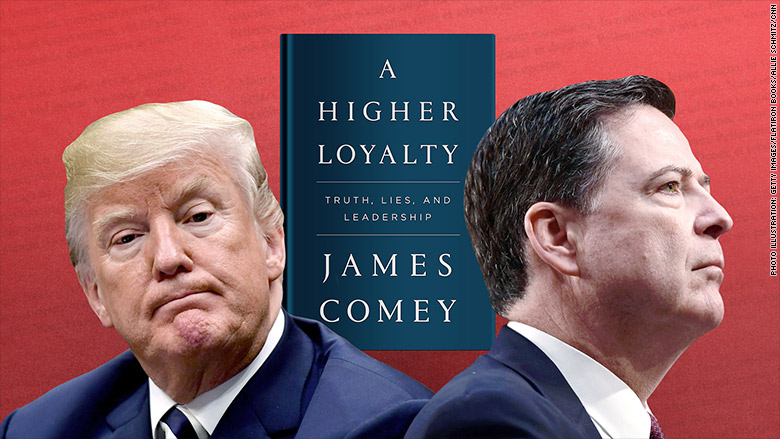 Former Director of National Intelligence James Clapper told CNN's Don Lemon that he has "every confidence" former FBI Director James Comey's account of events in his new book are accurate.
President Donald Trump slammed James Comey on Friday as a "weak and untruthful slime ball" and a "proven LEAKER & LIAR," the day after explosive excerpts from the former FBI director's tell-all book surfaced in media reports.
"James Comey is a proven LEAKER & LIAR. Virtually everyone in Washington thought he should be fired for the terrible job he did-until he was, in fact, fired. He leaked CLASSIFIED information, for which he should be prosecuted. He lied to Congress under OATH," Trump tweeted. "He is a weak and untruthful slime ball who was, as time has proven, a terrible Director of the FBI. His handling of the Crooked Hillary Clinton case, and the events surrounding it, will go down as one of the worst "botch jobs" of history
. It was my great honor to fire James Comey!"
Comey's book "A Higher Loyalty,"  details his conversations with the President, compares Trump to a mob boss, and slams the "forest fire that is the Trump presidency."
Former FBI director James Comey says President Donald Trump asked him to investigate the salacious allegations from the so-called "dossier" to "prove that it didn't happen" and said it would be "terrible" if his wife Melania Trump would believe them to be true.
In an exclusive interview ahead of the April 17 release of his book "A Higher Loyalty: Truth, Lies and Leadership," Comey told ABC News' chief anchor George Stephanopoulos that he met with the president to discuss the unverified allegations that the then-reality television star engaged in a sexual encounter with prostitutes during a 2013 trip to Moscow.
It's been over one year since the story surfaced that the Russians had dirt on Trump that could be used to blackmail him.
Comey confirms that story as a result of a meeting he had with Trump.  Comey says that during a private dinner with Trump on Jan. 27, 2017, Trump brought up the dossier and said, "He may want me to investigate it to prove that it didn't happen.
"'And I remember thinking, 'How could your wife think there's a 1 percent chance you were with prostitutes peeing on each other in Moscow?' I'm a flawed human being, but there is literally zero chance that my wife would think that was true. So, what kind of marriage to what kind of man does your wife think [that] there's only a 99 percent chance you didn't do that?"
Comey said that Trump then told him, "I may order you to investigate that." Comey said he preached caution.
"I said, 'Sir, that's up to you. But you'd want to be careful about that, because it might create a narrative that we're investigating you personally, and second, it's very difficult to prove something didn't happen,'" Comey said.
"President-elect Trump's first question was to confirm that it had no impact on the election … and then the conversation, to my surprise, moved into a PR conversation about how the Trump team would position this, and what they could say about this, with us still sitting there," Comey said. "And the reason that was so striking to me [is] that's just not done. That the intelligence community does intelligence, the White House does PR and spin."
According to Comey, no one in the room that day asked what next steps should be taken to stop the Russians from executing a similar operation in the future.
"It was all, 'What can we say about what they did and how it effects the election that we just had,'" Comey said.
Comey said he then asked to speak with the president-elect alone to discuss the information contained in the "dossier."
"I'm about to meet with a person who doesn't know me, who's just been elected president of the United States, [and] by all accounts, and from my watching him during the campaign, could be volatile," Comey said. "And I'm about to talk to him about allegations that he was involved with prostitutes in Moscow and that the Russians taped it and have leverage over him."
"I honestly never thought this words would come out of my mouth, but I don't know whether the current president of the United States was with prostitutes peeing on each other in Moscow in 2013," he said. "It's possible, but I don't know."
The full interview with Comey is scheduled to air on Sunday night.