Whether we like it or not, we are engaged in a new era of competition," Trump said, cautioning, "American success is not a foregone conclusion."
"We are declaring that America is in the game and that America is going to win," Trump said.
However the economic policies of Trump for America are lethal. Trump's plan for 3% economic growth are " somewhere between wildly optimistic and historically absurd."  The only possible way to realize anywhere close to that level of growth is to increase immigrants in America.    Yet Trump is the most anti-immigrant President of the last century.  Not only is he committed to ending illegal immigration, but he is also inflicting permanent damage on LEGAL IMMIGRANTS.
"Our nation is a nation of immigrants," Reagan said in 1981. "More than any other country, our strength comes from our own immigrant heritage and our capacity to welcome those from other lands." He favored a policy that "opens the door of opportunity for those who seek a new life in America."
That sentiment seems to be on its way to extinction in his party. Even when it comes to foreigners who choose to come legally, Trump is closing doors, and putting up walls.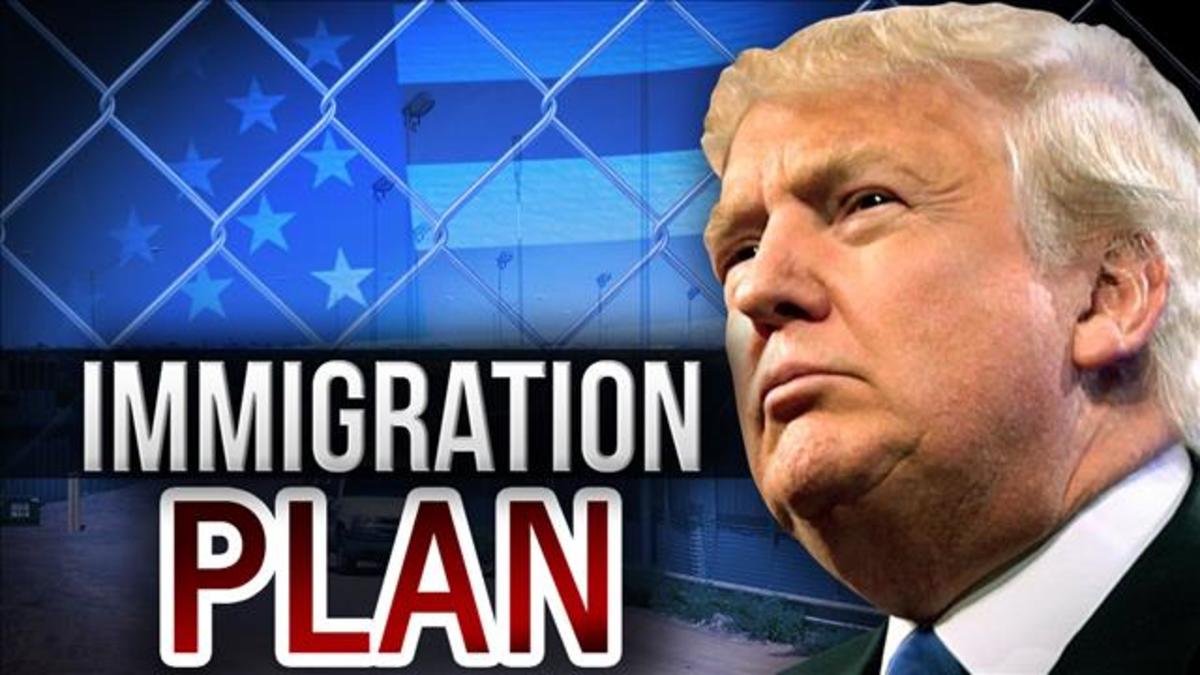 America's standing is Asia has markedly declined under Trump. Both allies and rivals in the region have been perturbed by Trump's "America first," neo-isolationist foreign policy. His midnight tirades on Twitter, constant attacks on the liberal international order and push to dismantle the Trans-Pacific Partnership trade agreement have collectively left America isolated even from some of its closest allies. As an official from one of America's key partners in the region put it, "Is this how superpowers commit suicide?" It appears the answer is yes.
While America continues to maintain a significant military edge over its closest rivals, it's gradually losing the main battle that is defining this century: trade and investment.
Donald Trump has a history of attacking Amazon.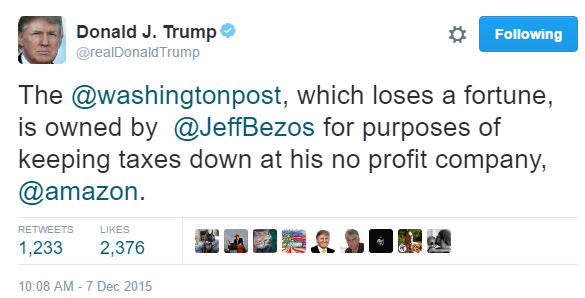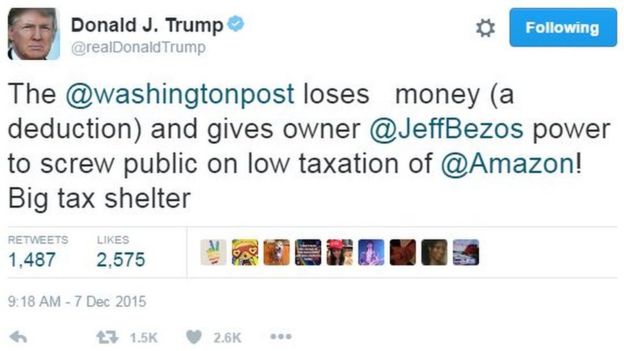 Yesterday Axios , citing five unnamed sources, reported that Trump was considering whether to change Amazon's tax treatment because of the impact the online giant has had on smaller retailers.  As a result of Trump's direct attack on this one retailer, Amazon stock plumeted by almost $40 BILLION DOLLARS!!!  It seems that several of Trump's friends have told him that  Amazon is hurting their businesses and "killing shopping malls."
At a Senate hearing on July 26, Sen. Joe Manchin, D-W.Va., asked the Treasury secretary about his view on internet state sales taxes.
"So this is an issue that we've been looking at very carefully within the administration, and we expect to come out with a position shortly," Mnuchin said. "I am encouraged that Amazon is now charging tax, I believe, on their own sales but not the marketplace. I'm not sure I understand the consistency on that, but I respect the states' ability that there's an awful lot of money that's not being collected."
Mnuchin was referring to e-commerce giant's "third-party" marketplace, where other firms sell goods on Amazon's website. In its "first-party" business, the internet company sell products directly to customers.
More recently, Mnuchin told the House Ways and Means Committee hearing in February that the administration "feels strongly" the government should institute a sales tax on internet e-commerce.
Pause for a moment and consider the company that Trump has attacked.  Amazon employs over half-a-million workers.  In the third quarter of 2017 Amazon reported that it employed 541,900 employees, up from a little more than 300,000 in the same period a year earlier.  That means that Amazon has added nearly a quarter million employees to its headcount in a single year.  Part of that growth likely came from its deal to acquire Whole Foods for $13.7 billion during the quarter. At the time the deal was announced, Whole Foods had about 87,000 employees.
But Amazon also said at the beginning of this year that it would create 100,000 U.S. jobs as it staffs up fulfillment centers and hires customer service representatives.
The e-commerce company's profit climbed to $256 million in the third quarter of 2017, up from $252 million in the same period a year earlier. That marks the tenth straight quarter Amazon has been profitable.
Amazon has separate retail websites for the United States, the United Kingdom and Ireland, France, Canada, Germany, Italy, Spain, Netherlands, Australia, Brazil, Japan, China, India, and Mexico. In 2016, Dutch, Polish, and Turkish language versions of the German Amazon website were also launched. Amazon also offers international shipping of some of its products to certain other countries.
In 2015, Amazon surpassed Walmart as the most valuable retailer in the United States by market capitalization. Amazon is the fourth most valuable public company in the world, the largest Internet company by revenue in the world, and the eighth largest employer in the United States.
For Donald Trump to target an individual private company in this way is unforgivable.  To suggest that he will make America great again by attacking the eighth largest employer in America is outrageous.  Amazon is an example of the ability of an American company to compete and dominate in the world economy.  Yet Donald Trump has done everything possible to hurt this America Icon.  Perhaps The Donald is simply jealous of CEO Jeff Bezos, who owns 17% in the company, and is the richest man in the world.