It would be a perfect example of "poetic justice" if a female porn star would be the end of Donald Trump.  As many times as Trump has disparaged women, it is only fitting that it is a woman that will bring him down.  As many times as Trump has associated himself with women who get paid for sex, it is only fitting that a porn star would prove to be his most worthy adversary.  Stephanie Clifford a/k/a Stormy Daniels seems to have positioned herself as the President's most dangerous foe.
It also seems fitting that the most explosive interview of Daniels was done by Anderson Cooper, a respected gay reporter, after Trump has demonstrated in his first year in office to have lied about being a strong supporter of LGBTQ rights.
Trump campaigned saying that he would be a good friend to LGBT people.Yet in his first year he tried to reinstate a ban on transgender people in the military, he nominated multiple people to the courts and elsewhere who have anti-LGBTQ records, he has directed federal lawyers to take the anti-LGBTQ side in court cases, and he even refused to recognize Pride Month.
Trump's Justice Department has argued that anti-gay discrimination is legal, filing a friend-of-the-court brief claiming that the federal Civil Rights Act doesn't protect gay and bisexual workers. Without explanation or justification, Trump has fired all the members of the Presidential Advisory Council on HIV/AIDS.
 Stormy Daniels gave Anderson Cooper an exclusive interview.
That interview was the highest-rated episode for 60 minutes in 10 years.  CBS newsmagazine averaged
22.1 million viewers
for Sunday's show, according to Nielsen, which is more than twice as many viewers for a typical edition.
The White House said Monday that President Trump didn't believe the claims made by Stormy Daniels in her "60 Minutes" interview were "accurate," and blasted the adult-film star for being "inconsistent."
White House Deputy Press Secretary Raj Shah said the president repeatedly has denied having an affair with Daniels, whose real name is Stephanie Clifford, and questioned the accuracy of her statements made.
For Trump to say that he doesn't "believe" the story of Stormy Daniels is absurd.  Either he knows it is true or not, and it's not a question of whether he "believes" it.  It would be like saying that a person who participated in a murder doesn't believe that he was involved in a murder.  Either he was or was not.
The bigger story is that Stormy Daniels' attorney has a plan.  Believe it!
Since the Journal first ran with the story about the $130,000 payment, multiple other outlets, including Slate, Fox News and the Daily Beast have revealed that they had started reporting on the story before the 2016 election.  However, each outlet had a reason why the story did not run — Slate's Jacob Weisbergwrote that Daniels had stopped responding to him "about a week before the election," and that he couldn't confirm that she had been paid for her silence. The Daily Beast wrote that Daniels backed out of a potential interview five days before the election. Ken LaCorte, of Fox News, wrote that he thought his organization's story didn't have enough evidence to be publishable.
In Touch added that the story of Daniels' alleged affair with Trump is backed up by two others: "The account of her affair was corroborated by one of her good friends and supported by her ex-husband." The magazine also said that Daniels, her friend and her ex-husband all passed polygraph tests.
Additionally, Trump and Michael Cohen have told the WSJ that the encounter never took place.  On January 18, the 
Journal followed up with a story
 about how the Trump team hid the payments, setting up Essential Consultants, LLC in Delaware on October 17, 2016, to make the payments.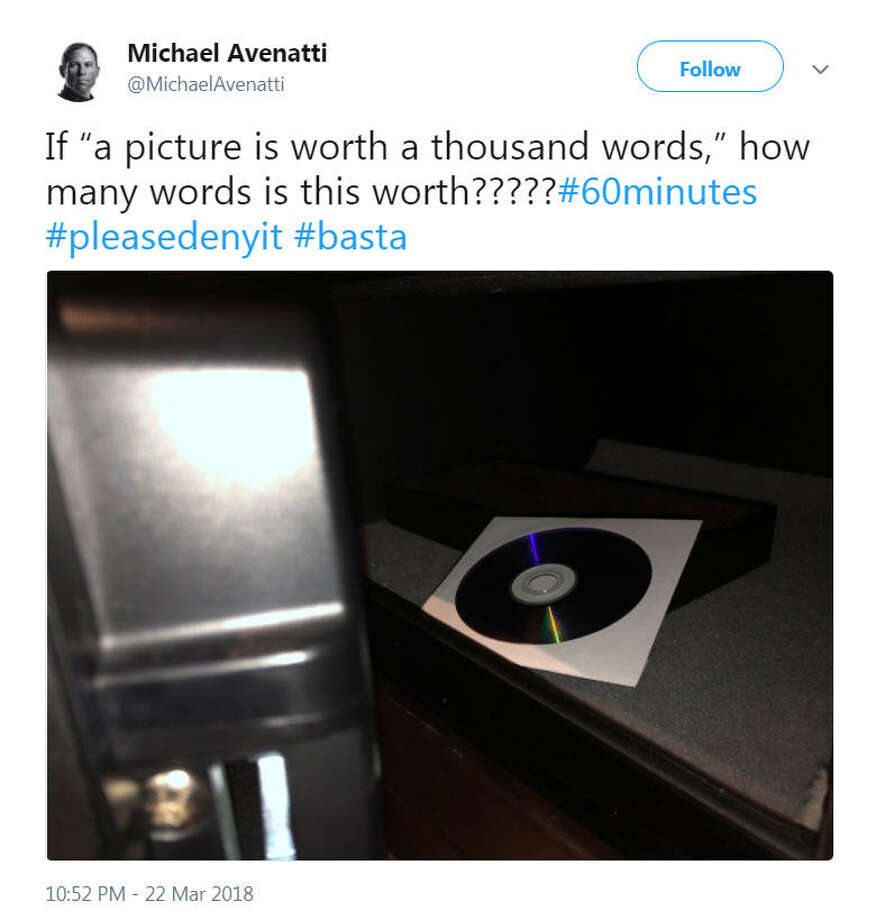 "That DVD could be the stained blue dress of this whole scandal: proof positive that the affair took place, that the coverup took place, and that Cohen and Trump are liars."
The agreement signed by Daniels may not be enforceable for other reasons which include:
 "Mr. Trump never signed the agreement, and, therefore, there never was a formal agreement, and the agreement is null and void," Michael Avenatti said on NPR last week.
Weirdly, the agreement actually says it is between "EC, LLC and/or David Dennison, on the one part" and Daniels on the other. That "and/or" is quite unusual in the recitation of parties to a contract. Either the parties are signatories, or they're not.
Daniels's lawsuit alleges that "Mr. Trump purposely did not sign the agreement so he could later, if need be, publicly disavow any knowledge of the hush agreement." That argument makes sense to George M. Cohen (no relation to Trump's lawyer), who teaches contract law at the University of Virginia School of Law.  If Trump failed to sign the agreement so he could disavow it if he chose to do so, it is probably NOT an enforceable contract.  Thus it is possible that " DD declined to sign to preserve deniability later on while [also] preserving the ability to enforce against PP," so that Trump might have been "trying to have his cake and eat it."  "A court might view that intention as insufficient to create an enforceable contract, on the theory that you have to make a choice to be in the contract, with obligations binding on you, as well, or not."
The contract might be determined to be against public policy, and thus unenforceable.
"Courts can refuse to enforce contracts for lots of reasons," said David Hoffman, a contract-law specialist at the University of Pennsylvania Law School. "It's not simply the case that whatever you sign, you are bound to. And one reason that courts can give — and do give — for not enforcing contracts is the contracts are against public policy."  An obvious example would be a murder-for-hire contract, which no court would enforce, because murder is illegal.
The justice system's guiding principle, according to Hoffman, is that "we only enforce contracts because they are good for society. When contracts create big, external harms — they hurt non-parties to the contract — we're not going to allow you, the private parties, to set a deal that's going to have this nasty effect on the public at large."
"A court could, if it wanted to," Hoffman continued, "say that if you're a week before a presidential election, and you're a presidential candidate, and you're trying to hide information that's important to the public, the court system shouldn't be in the business of enforcing that. … Information that's relevant to the country, as a whole, is being hidden by this private contract, and we shouldn't allow two private parties to hide information from the public that matters like this."