Her stage name is "Stormy Daniels."  Her real name is "Stephanie Clifford."
Daniels gave an interview in 
2011 to In Touch Weekly
 about sexual relations she had with Donald Trump in 2006, that began shortly after Melania gave birth to Barron.  In that interview sh
e said
: " 
Karma will always bite you in the ass."
It seems that her remarks were all too true.  Stormy Daniels is the Prefect Storm and Trump is caught in the middle with no clear path out.
Ten days after those emails, October 27, 2016, another email shows Daniels received a $130,000 payment, according to the Post.  
Cohen admitted last month
 to making the payment, saying in a statement that the exchange was a
"lawful
" "private transaction" in which he used his
"own personal funds,"
and "was not a campaign contribution or a campaign expenditure by anyone."  "
Neither the Trump Organization nor the Trump campaign was a party to the transaction with Ms. Clifford, and neither reimbursed me for the payment, either directly or indirectly,"
Cohen said.  The idea that an attorney would pay $130,000 out of his own personal funds to help a client is laughable.  Obviously Mr. Cohen had an indirect financial incentive to make the payment, even if there was no direct transfer of funds!
There is a limit,
by law,
of the maximum campaign contribution that an individual is allowed to make to a federal candidate.  That is 
$2,700 per election.  
  Thus, whatever anyone thinks of Trump having sex with a porn star after Melania gave birth to his son, the real unlawful conduct was the payoff by Trump's attorney that was in
direct violation of campaign rules.
Michael Avenatti, Daniels' litigation lawyer, has filed suit  against Trump seeking to void a nondisclosure agreement she signed with a company set up by Trump's attorney, Michael Cohen, in October 2016.  Avenatti  is prepared to return the $130,000.00 if required by the Court.  Avenatti, during an interview with NBC's "TODAY" show, said that agreement is not legally valid because Trump never signed it.  Avenatti also asserts that Trump didn't sign the agreement — which used pseudonyms for the parties involved — "so that he could later claim deniability" about the affair with Daniels."It's our position that the entire document is null and void," Avenatti said.
Avenatti confirmed that Daniels
"Did she have a sexual relationship with the president?" 
Common Cause has filed a complaint regarding this payoff with the FEC.  They refer to the " in-kind contribution" to Trump's presidential campaign.
This is the "Perfect Storm" in which Trump is caught because (1) no matter what he claims now, it is clear that he is an unfaithful adulterous mysognistic animal, (2) regardless of the outcome of the suit, Trump will lose (i.e. either the agreement is uneforceable and Daniels can tell and show all, or the court will find that it was Trump or his representative who signed the agreement and  it would thus be an in-kind campaign contribution that should have been disclosed) and (3) Trump has repeatedly used the Courts to manipulate and coerce others, taking advantage of his wealth to intimdate.  In this case the Courts are being used against Trump.
Finally, it is interesting to note that:
 Stormy Daniels is 38 years old.  She is probably at the end of her career as a porn star.  It appears that she may be able to retire on the proceeds of a book that will surely follow.
Stormy is not just any porn star.  She is an award winning star.
In July 2002, she was cast as the lead in a feature film for Wicked Pictures called Heat, where she did her first heterosexual scene, and, in September of the same year, she signed an exclusive contract with Wicked. In 2004, she won the Best New Starlet Award from Adult Video News.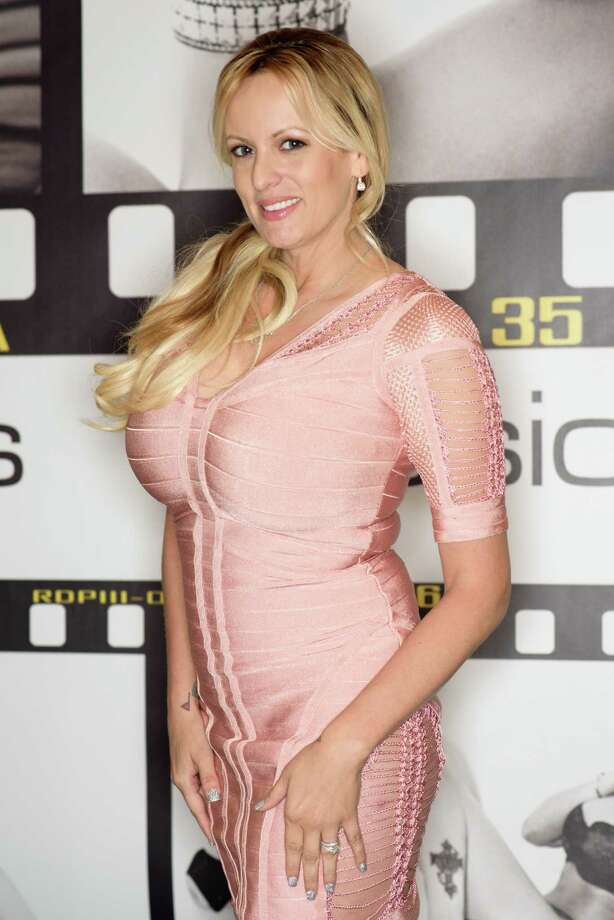 Daniels was inducted into the AVN Hall of Fame on 18 January 2014 and was inducted into the XRCO Hall of Fame (American X-Rated Critics Organization) on 16 April 2014.
Stormy Daniels , former Penthouse Pet of the year, porn star and alleged consort of President Donald J. She's in town for the AVN Awards which goes down tonight. "Because I love SNL , '" she said.