Donald Trump should never have been elected President.  Without doubt his policies and political positions are contrary to mine.  He is racist.  He is mysoginistic.  He is a disgrace to our country.  He has repeatedly acted contrary to the very principals of the US Constitution.  However nothing that came before is a better, more obvious example of the reason that Donald Trump should never have been elected.
Seventeen highschool students were killed and at least 14 injured in the shooting at a highschool in Parkland Florida.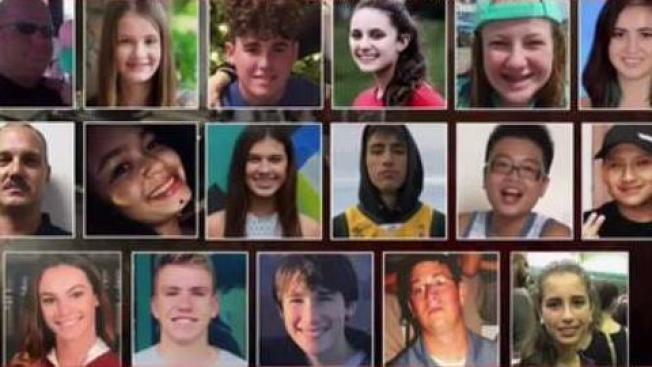 The anguish of America was only surpassed by that of the families of the victims.
If it weren't clear before, it is now, that speaking out when you see something wrong is not enough.  The FBI was warned about this shooter and failed to prevent the attack.  The shooter announced his intentions on social media six weeks before the shooting.  Nobody stopped him. 
At a time when the country needed a strong leader to give us hope that a solution was coming, Donald Trump was the President.  Someone obviously wrote his speech for him.  In case the delivery seemed forced and artificial, it was.  In case Trump seemed disingenuine, he was.  If his remarks seemed the total opposite to previous comments, they were.  Here are the remarks:
Trump directed America's children and said:
 "answer hate with love, answer cruelty with kindness; we must also work together to create a culture in our country that embraces the dignity of life…"
Yet Trump has a history of inciting violence.  When a person simply protested, without assaulting anyone, or using any type of weapons, Trump responded by saying that he should have been roughed up.  He said, if you see a person getting ready to throw a tomatoe, "knock the crap out of them…seriously! Just knock the crap out of them.  I will pay for the legal fees, …just knock the hell…I promise…I will pay for the legal fees."
He explained " we're not allowed to punch back anymore…I love the old days…they'd be carried out on a stretcher!"
"I'd like to punch him in the face."  "If you hurt him, I'll defend you in Court."
"…part of the problem is that nobody wants to hurt each other anymore."
Trump explained that: "I want you to know that you are never alone and you never will be," Trump said. "You have people who care about you, who love you and who will do anything at all to protect you."
Yet when asked if more strict gun laws were needed to prevent further shootings, Trump failed to even answer.  
The lives lost in the Parkland shooting was a tragedy.  The words of Donald Trump following this tragedy were a clear indication that there will be more tragedies and America is not healing, but our wounds are festering.