In 2012, the U.S. Treasury Department expanded the applicability of the Bank Secrecy Act ("BSA") and Anti-Money Laundering ("AML") regulations to include loan and financial institutions including non-bank residential mortgage loan originators ("Lenders").  Lenders are at clear risk for money laundering, fraud and tax evasion. In general loans provide a straightforward and simple artifice to launder money. Seemingly normal applicants will apply for a purchase loan to acquire property, inject a large sum of money for a down payment, and make regular payments; unbeknownst to the lender, the borrower is laundering ill-gotten money through the loan in the form of loan payments.
One of the simplest schemes to launder money is to acquire real estate borrow against realestate acquired with ill-gotten money. Another way is to make loan payments with ill-gotten money. This allows criminals to eliminate their "dirty money" and in return obtain "clean money" from the Lender. However, Lenders, like banks, are in a unique position to identify and assess money laundering risks and fraud because they work closely with the borrower when preparing due diligence and the underwriting for the loans. Thus banks may be in a position to exert substantial threats of disclosure if they have someone they perceive is laundering money.  It appears that is exactly what is happening with Deutsche Bank and Donald Trump.
Casinos are another mechanism commonly used to launder money.  Trump's main businesses have focused on casinos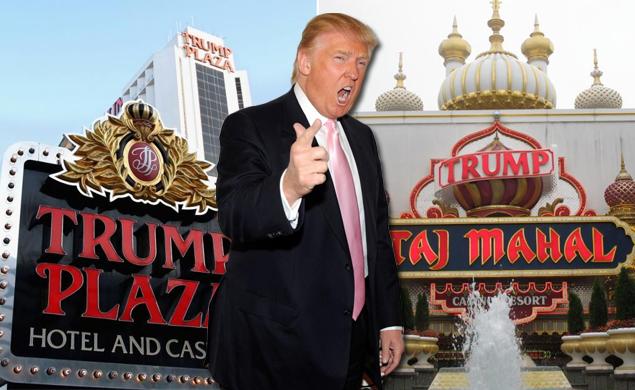 and realestate.
Trump also has a history of multiple bankruptcies.  Certainly the fact of filing bankruptcy may be a red flag for money laundering.
Much focus has been centered on the Mueller investigation of Russia's influence in the 2016 election.  While Trump may have colluded with Russia regarding the campaign, it seems that the Mueller is focused, at least in part, on money laundering.
Former White House chief strategist Stephen Bannon told Michael Wolff in his bestselling book, Fire and Fury, "You realize where this is going … This is all about money laundering."
Among the first Trump associates to be indicted last year was campaign manager Paul Manafort, who is accused of laundering money by purchasing several properties in New York and Virginia. Manafort, who has worked for pro-Kremlin officials in Ukraine, has pleaded not guilty and is expected to stand trial later this year.
Manafort's attorneys have pointed out the charges he is facing date from years before he joined the Trump campaign and don't have any bearing on any alleged collusion between the Trump team and Russians.
Mueller has hired several prosecutors with experience in prosecuting financial crimes such as money laundering, including Andrew Weissman, chief of the Justice Department's criminal fraud section.
"I don't think he (Mueller) would have brought them onto his team if that wasn't going to be an area that would be focused on," says former federal prosecutor Kenneth McCallion, who helped investigate ties between Trump and New York Mafia figures in the 1980s.
Several published reports say Mueller's team has issued subpoenas to Deutsche Bank for records pertaining to Trump associates. Deutsche Bank was the only major commercial bank willing to lend to Trump after his string of bankruptcies. It has also been accused of laundering Russian money by the New York State Department of Financial Services.
White House attorneys have denied the reports of the subpoenas, but the bank has made no comment one way or the other. All it has said is that it cooperates with investigators but will not comment on individual cases.
A German magazine is reporting that officials of Deutsche Bank have informed Germany's banking regulator about "suspicious" transactions by the real estate company owned by Jared Kushner and his family.  No details were provided about the nature of the transactions, but Deutsche Bank officials are prepared to turn over documents related to them to special counsel Robert Mueller, who is investigating Russian interference in the U.S. presidential election, the business magazine reported Friday.
Deutsche Bank is a key banker for both senior White House adviser Kushner and Donald Trump. Reuters reported last month that Mueller had issued subpoenas to the bank for information on certain money and credit transactions by Trump and members of his family. The New York Times reported last month that the U.S. attorney based in Brooklyn, New York, had also issued a subpoena to the bank for information related to Kushner.
The bank discovered the troubling Kushner company transactions after an internal audit ordered by board President Paul Achleitner which was first reported and translated by Mother Jones magazine.
"Achleitner's internal detectives were embarrassed to deliver their interim report regarding real estate tycoon [Jared] Kushner to the [German] financial regulator BaFin." "Their finding: There are indications that Donald Trump's son-in-law or persons or companies close to him could have channeled suspicious monies through Deutsche Bank as part of their business dealings."
 Deutsche Bank has reportedly loaned over $2 billion to companies affiliated with Trump since the 1990s. It continued to give millions to him even though he defaulted on one of his loans. Trump owes the German bank at least $130 million, according to the president's most recent financial disclosure form, though it could be much more. Trump initially turned to the bank after a number of his businesses declared bankruptcy, making it difficult for him to find loans in the U.S.
Earlier this month, the Trump administration reduced fines against five banks — including Deutsche Bank .  Days later, Senate Banking Committee member Chris Van Hollen (D-Md.) sent a letter to Jerome Powell, Trump's pick to head the Federal Reserve. He asked Powell for reassurance that he would rebuff any White House attempt to interfere with the Fed's supervision of Deutsche Bank. Van Hollen said he was concerned about Trump's "significant liabilities" with the bank. Powell responded that he would hold the bank accountable and that the Fed would function as an independent entity answerable to the public and Congress.