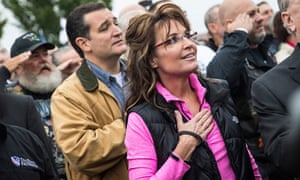 Everyone remembers when Sarah Palin and Ted Cruz blamed the White House for the Government Shut Down.
Now that Palin's buddy Trump is in the White House, and Republicans are the dominant party in both the House and Senate, she fails to comment on who is responsible.
She simply links to an article that someone else wrote that simply lists the votes of the politicians.  If she ever understood the issues she certainly doesn't now!
"Like me, you might be asking yourself: Why on earth would he threaten to veto funding for the troops? What is his game plan?" Palin wrote. "Basically, he'll veto military funding because he wants the rest of the government funded too. And by the rest of the government, he means things like Harry Reid's 'Cowboy Poetry.' Essentially, he's holding military funding hostage to NPR funding. This is a perfect analogy for what is wrong with this entire budget showdown. Our federal government has strayed so far from what is constitutionally mandated that they are blind to the fact that NPR funding is not a constitutional duty. Funding our military at a time of war is!"