With a wife like Melania Trump, it is not hard to believe that Donald Trump has had sex with porn stars.
What's hard to believe is that anyone would NOT realize that Trump was repeatedly involved with pornography.
Earlier this month, The Wall Street Journal reported that Stormy Daniels, a porn star, was paid $130,000 to keep quiet about having sex with Trump.  Rolling Stone found an interview that Daniels gave before the hush money was paid.  In that interview Daniels reported:
 Both Daniels and Trump were sober at the time of their alleged sexual encounter.
 2.  Daniels called their intercourse "textbook generic" and said that they didn't use protection, in part because she's allergic to latex. "It was kind of in the moment," she said of the decision not to use a condom. "And I was really kind of upset about it because I am so, like, careful." The former adult film star explained that her company at the time was "condom-only," but given that she is allergic to latex, she usually used non-latex condoms; she didn't have any on her that night. "I usually always have one in my backpack but I thought I was going to dinner, so I only had a tiny little cocktail purse," she said.
3. Daniels claims that Trump never mentioned wife Melania aside from telling Daniels, "Oh, don't worry about her," and she never met the future first lady in person.   However when Daniels found out that Melania had given birth to Barron just four months before she said "Wow what a dick!".
4.  Daniels said Trump asked her to sign a copy of her DVD after they had sex, likely a copy he got from the gift room earlier that afternoon. "
5. Some of Trump's dinner topics included the adult film industry, his fear of sharks, and how good he looked on the cover of "some sort of money magazine
6. Trump seemingly hinted that he wanted to get Daniels on Celebrity Apprentice.
7. Trump told Daniels that he believed his wealth and his power are linked to his hair. According to Daniels, when the two were engaging in banter prior to their sexual encounter, she asked him about his infamous hairstyle. "He said he thought that if he cut his hair or changed it, that he would lose his power and his wealth."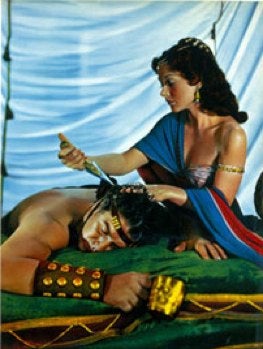 8. Daniels said one of the main reasons she spoke out to In Touch was because she heard from a friend that Trump had been publicly bashing adult film stars. 
Many parts of the story told by Daniels ring true.  Many people are trying to determine the veracity of the reports.  Key considerations are:
 Daniels wasn't the first porn star to report an encounter with Trump.  Jessica Drake reported in October of 2016 that Trump kissed her without her consent and offered her $10,000 for sex in 2006.  
The National Enquirer paid $150,000 to Playboy centerfold Karen McDougal for a tell-alll about her 10 month affair with Trump in 2006 and 2007.
The Wall Street Journal published this picture of Daniels and Trump with a caption indicating that the photo had been uploaded to Ms. Daniel's 2006 Myspace.com account.
4.  The Journal reported that it was a lawyer for President Donald Trump who arranged the $130,000 payment to Ms. Daniels.  The attorney who made the payment was Michael Cohen, who spent nearly a decade as a top attorney at the Trump Organization.
6.  Ms. Clifford, stage name Daniels, reported that the encounter with Trump took place in 2006 at a celebrity golf tournament.  She gave details including the month, July, and the location of the golf tournament, Lake Tahoe.
7.  It was Mr. Cohen, the "authorized person" who sent a two-paragraph statement by email addressed "TO WHOM IT MAY CONCERN" that denied the affair with Trump.  So the attorney who worked for Trump produced a statement signed by "Stormy Daniels" denying that she had a "sexual and/or romantic affair" with Mr. Trump.
8.  Mr. Cohen worked at the Trump Organization from 2007 until after the election in 2016. As Mr. Trump took office, Mr. Cohen said he would work in private practice and act as Mr. Trump's personal attorney. "I am the fix-it guy," he said in an interview in January 2017 before Mr. Trump's inauguration.
Trump has denied the sexual encounter, but of course he's a pathological liar.  Cohen has denied the sexual encounter, but doesn't deny the $130,000 payment.  Moreover a friend of Stormy Daniels spoke to Trump who invited her to come and party with them.