From the moment Trump took office people have run as far away from him, as fast as they could.
Rachel Maddow has been compiling a list of departures from the White House that is as long as it is colorful.
She compared people running from the Trump White House to people running away from the Blob.
The The Wall Street Journal reported that 34 percent of senior officials in the White House have quit, been fired, or been reassigned during Trump's first year in office—more than double the figure for the most volatile administration in history.
What distinguishes the departing figures, beyond their number, is how many of them departed under a cloud of scandal.  The departures are an indication of lack of continuity.  The departures are even more problematic because so many positions were never filled.  More than one-third of posts included in a Washington Post-Parternship for Public Service tally haven't even had a nominee.  Departures have been the result of chaos, conflict, and anxiety.
Pictures like this one remind us of the turnover that has punctuated Trump's first year in office.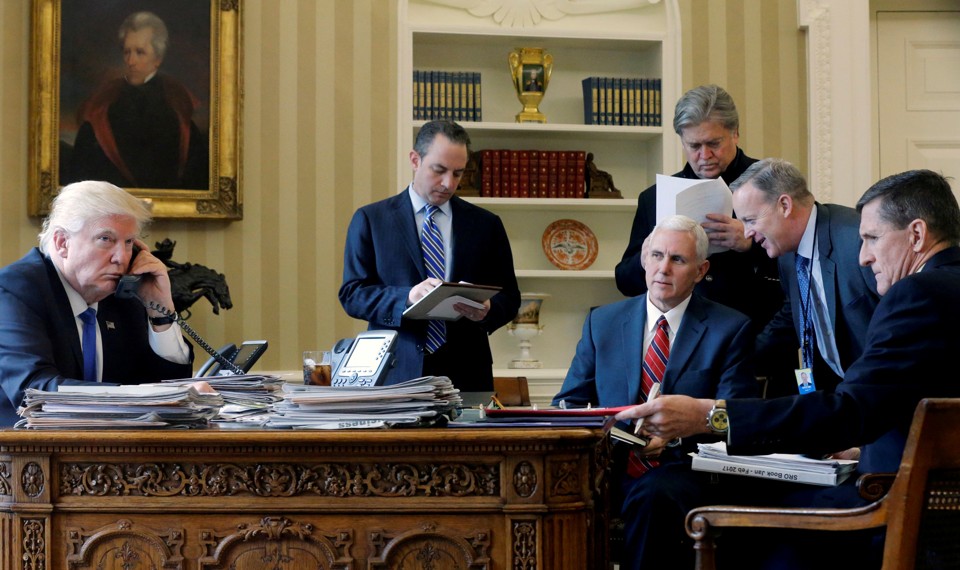 Several of Trump's top advisers are still weighing whether to leave the administration at the one-year mark. Others appear likely to depart in the coming weeks.
Two of the most senior officials who are on the potential departure list are Don McGahn, the White House counsel, and HR McMaster, the national security adviser. The President, like with many of his advisers, has aired frustrations openly with both men. As the Russia probe strengthens in intensity, it is likely that anyone on the fence will surely leave.