It's been a tough year for Track Palin.  He was recently arrested as a result of beating up his father.  Poor Track. It's hard for people to understand the pressure of being an amputee and the son of Sarah Palin.
On top of that there is the constant pressure of remembering who's the mother of each of his kids, and where he can and can't go.  There are all those restraining orders!  Who could keep track?  Track often wakes up at night and wonders who is his father, and why was he the Son of Sarah?  What did he do to deserve such a fate?
2018 is a New Year and Track has vowed to make this his best year ever.  Sarah Palin revealed the New Year Resolutions of her oldest son.  It's not clear why Sarah was the one to report Track's resolutions.  Speculation is that this is just another manifestation of Track's PTSD.  An alternative theory is that Track is going to be the subject of Sarah's new book.  The theory is that Sarah has devised a way to combine a classic children's book,
and a famous Christmas classic, "I'll Be Home for Christmas."
Her new book bears the title "Home for the Holidays with Dad." It's the classic tale of a young man on house arrest who discovers his mother's diary and a passage relating to an unnamed neighbor who kept her company while Todd was away fishing.
Sarah reports that Track has resolved that in 2018 he:
 Will never threaten to beat the shit out of Todd when Todd's holding a gun.
2.  Will never again consume alcohol and drugs at the same time.
3.  If he fathers any more children, it won't be with Jordan or Britta, as they have both gotten restraining orders to keep him away from them.
4.  He won't do any more cross dressing.
5.  He won't allow any more pictures to be taken of him in prison attire.
6.  When posing for a picture, he'll only use his thumbs like mom.
7.  If he gets another tat, it will be of mom.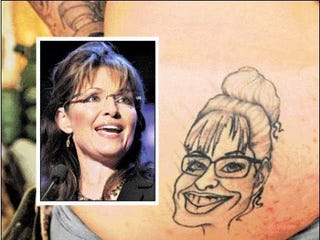 8. From now on he will only punch male friends.
9. If there is another family brawl, he'll win this time.  He won't let Bristol defend his honor, and he'll let Tripp sit in the front seat of the limo.
10.  If Track vandalizes any vehicles now it will be police cars instead of buses.