What a combination. Melania has been featured eating jewelry in Vanity Fair.
Maybe the Donald should eat a little more jewelry and a little less fast food.  Trump has installed a red button in the Oval office so he can order more Diet Coke without having to ask for it.  That's convenient as he reportedly drinks 12 cans a day.That's two six packs.  That's 144 oz of Diet Coke each day, 1008 oz each week, and 52,416 oz Diet Coke per year.
A 12-ounce can of Diet Coke contains 47 milligrams of caffeine — a moderate amount for most people. But if you drink many cans per day, or if you're sensitive to caffeine, you may experience shakiness, dizziness, headaches, anxiety, abnormal heart rhythms and insomnia.
Caffeine is a diuretic, meaning it makes you urinate. The more Diet Coke you drink, the more you will urinate, sapping the body of needed water. Dehydration can cause dizziness, headaches, speeding heart, seizures and, in extreme cases, death. While drinking caffeinated beverages is unlikely to cause life-threatening dehydration, Diet Coke won't hydrate you nearly as well as water or herbal tea.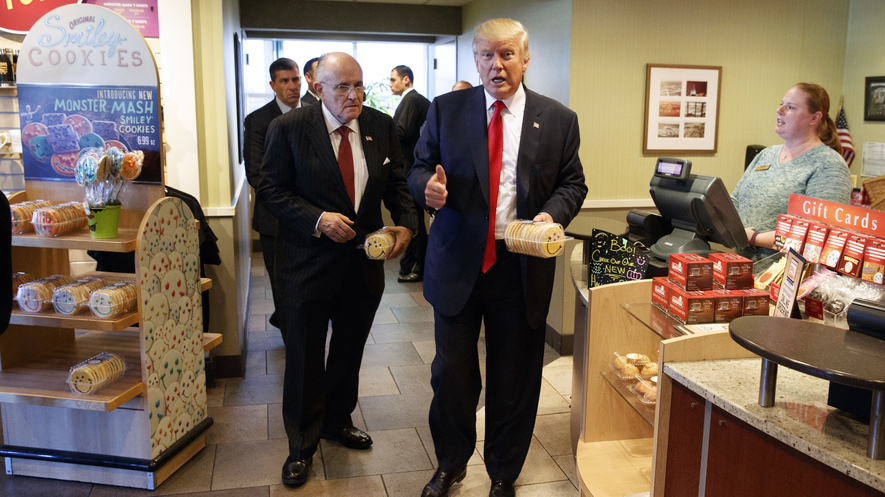 "Eater" features an article that is a year in review of the outrageous things things President Trump has eaten during his first year in office.  Most people know Trump likes fast food.  However the amazing thing is the report of the things he' eaten that you may not have known about.  Here are a few of the choice items that the President consumed in 2017:
 Lays potato chips.
When Trump gets the munchies, he craves Lay's potato chips. According to the New York Times, this classic salty snack was a staple on his private plane, so it's no surprise that he demanded his private kitchen be well-stocked.  It's a big change from the healthy treats that were a staple when Barack Obama and George W. Bush were in residence.
2. A New York strip cooked well-done with a highly unorthodox side of ketchup.
3.  McDonalds
The Big Mac releases a certain set of 'feel good' chemicals which have been compared to taking drugs like cocaine.   Twenty minutes after eating a big mac your body is craving more and more of the fructose corn syrup which was found in the burger bun. Thirty minutes after eating a big mac, dehydration occurs as a result of the 970 milligrams of sodium (salt).  Dehydration is easily mistaken for hunger, making customers inclined to eat more.
4.  Baked Alaska in honor of Sarah Palin.
5.  Trump gets an extra scoop of ice cream with his chocolate pie.
Why does anyone care about the food consumed by Trump?  The health of the American President is always of concern.  At age 71 (Trump's age) a typical American man is estimated to have a life expectancy of 7 more years, irrespective of his eating habits.  However we know that eating habits affect life expectancy.
And because excess weight plays a role in so many common and deadly diseases, overweight and obesity can cut years off your life. A New England Journal of Medicinestudy that followed more than half a million 50- to 71-year-olds for a decade found an increase of 20% to 40% in death rates among people who were overweight at midlife. Among obese people, the death rate was two to three times as high.
A 2010 study in the same journal, which pooled findings from 19 studies that followed nearly 1.5 million white adults 19 to 84 years old for a similar period of time, found that the risk of death increased along with body size, ranging from 44% higher for those who were mildly obese to 250% higher for those with a BMI of 40 to 50.
So the question is how much overweight is Donald Trump?  During the campaign an article reported that Trump is 6'3" and weighs 236lbs.  If true his his Body Mass Index (BMI) would be 29.5, which is teetering at the edge between overweight (BMI > 25) and obese (BMI > 30). However, there seems to be no evidence to support the assertion that Trump is 6'3". Pictures of Trump at the Republican debates in 2016 are quite helpful.  Trump didn't look anywhere near Jeb Bush's height in any of the photos and Bush is also reportedly 6'3".
Because we virtually never see Trump wearing anything except a loose fitting suit, it is hard to estimate his actual weight.  However these pictures illustrate that he has had at least one big Mac too many.