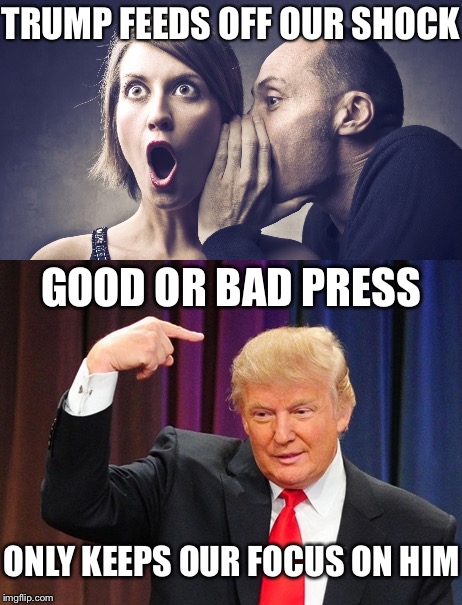 It's a lesson from the Donald Trump playbook.  Keep the press focused on him.  The only thing worse than bad press is no press at all.  Sarah has learned that lesson and the proof is the recent embarrassing episode of Track beating Todd after breaking into Sarah's home.
Trump has regularly shown his conviction that mistakes, flagrant provocations and the attendant bad publicity genuinely don't matter, so long as they serve the "goal of owning the spotlight."
Imagine the horror for Sarah Palin if Willow got engaged but nobody noticed.  Now that Track has focused media attention on the dysfunctional family, there is surprising news of Willow's engagement.  Palin trolls might suggest that I am simply a skeptic and a "liberal hater."  However the basis of my conclusion is indisputable.  Think about it:
 When Track was arrested, Sarah's attorney said  that the Palins are unable to comment further. They asked that the family's privacy be "respected during this challenging situation just as others dealing with a struggling family member would also request."
That was two days ago that the Palin family asked that the press respect their privacy.  Now the Palins have illustrated their DESIRE for publicity.  Photos of Willow were posted on social media by both Sarah and Bristol.
Willow has been seeing Ricky Bailey for four years.  Isn't it funny that he happened to pop the question so soon after unfavorable news for the Palin family?  Isn't it funny that he asked Willow in a destination so far from Wasilla where Track was jailed, and during a trip right before Christmas?  What about being home for the holidays?
These are the photos posted to Instagram.  They didn't have time to decorate the tree for the photos.  Sarah didn't have time to get her hair done or to get her table-shirt dry cleaned for the photo shoot.
WEd. Dec. 20th 5:29 pm these photo were posted on Instagram. 
This photo is from the New York Daily News on Wed. Dec. 20th at 6:24 pm.There is no engagement ring on Willow's left hand.  Trig , Todd, Piper, and Ricky are not in the photo!  It doesn't appear that any are even traveling with Sarah and Willow.
http://www.dailymail.co.uk/news/article-5199843/Willow-Palin-engaged-Ricky-Bailey-Track-arrest.html
When you view the photos from the "actual" proposal, ask yourself "WHO IS TAKING THE PICTURE?"  "WHY IS RICKY WEARING THE SAME HAT IN THE PICTURE FROM WASILLA AND THE PICTURE AT ROCKEFELLER CENTER IN NEW YORK?"  "HOW COULD RICKY AFFORD SUCH A BIG RING?"  "WHY WAS SARAH GOING TO NEW YORK WITH THE CHRISTMAS HOLIDAY UPON HER, TRACK HAVING BEEN ARRESTED, AND TODD RECOVERING FROM A HEAD INJURY?"
When Todd was hospitalized from the "snowmobile accident" why didn't Sarah rush home to comfort her ailing husband laying in ICU?
When Todd was hospitalized from the "snowmobile accident" why was this the only picture of Sarah visiting him?
When Todd was hospitalized from the "snowmobile accident" why were Piper and Willow laughing?