Remember when Sarah Palin said "If I were President Waterboarding is how we would baptize terrorists."
What never occurred to her fans was the determination of who was a terrorist.  Who decides?  How was it determined that somebody was a terrorist.  The issue of torture could only be debated AFTER it was determined that a person WAS a terrorist.  Most people would agree that you shouldn't torture Americans citizens who really are not terrorists.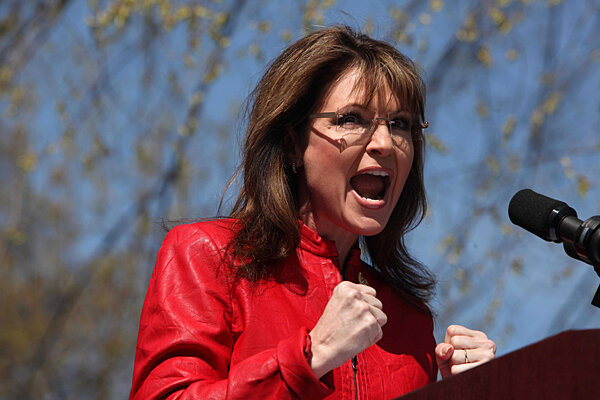 However Sarah Palin seems to feel comfortable deciding the guilt or innocence of people.  That's offensive enough, but it now appears clear that her criterion is whether the person is of foreign ancestry.
She previously indicated intolerance for Arab Americans and indicated they should be restricted in where they could build places of worship.
Now she has gone even further, suggesting that a jury of 12 American citizens who acquitted a person, of Hispanic ancestry, of murder charges were wrong.  Jose Ines Garcia Zarate, 45, was acquitted of murder and involuntary manslaughter charges, as well as assault with a deadly weapon. Jurors did convict Mr. Zarate of being a felon in possession of a firearm, which could bring a three-year sentence.  Thus the jury did convict him, just not of murder.
The woman killed was Kate Steinle.  Ms. Steinle was killed as she was walking along Pier 14 with her father.  The was no indication at trial that Zarate knew Steinle.  Zarate's defense attorney said the shooting was accidental and the bullet ricocheted off the ground and traveled about 80 feet before hitting Steinle.  Retired police Inspector Jim Evans also said he could not be certain where either the defendant, Jose Ines Garcia Zarate, or Steinle were located at the time of the July 1, 2015 shooting, making it impossible to conduct an exact trajectory analysis.
Evans said crime scene investigators initially found no shell casings or bullet strike marks at the pier. However, they went back to the scene several days after the shooting for another look after an examination of the bullet showed that it had struck something hard before it hit Steinle.
Defense attorneys have said that Garcia Zarate was holding the gun when it fired, but argue that it was an accidental discharge. They have said he found the gun under his seat on the pier, wrapped in a t-shirt or cloth, and did not know what it was when he picked it up.
In court today, Matt Gonzalez, chief attorney for the public defender's office, pressed Evans to acknowledge the lack of certainty in his conclusions.
Under cross-examination, Evans acknowledged that he did not know the exact locations of either Garcia Zarate or Steinle and could not do a full trajectory analysis without that information. He ultimately acknowledged, under cross-examination, that he could not say if the shooting was accidental or not.
Sarah Palin said, "San Francisco is NOT a safe place."
Palin wrote, "Such an insane recent news cycle, and now this?? Outrageous 'not guilty' verdict in murder case of Kate Steinle. The illegal alien who shot her was just give more rights, grace and favor than the devastated Steinle family."
She ended her tweet warning the world to avoid the city of San Francisco.
The standard a jury must use is any criminal case is "beyond a reasonable doubt."  To conclude that any shooter might not have have intentionally shot a person after hit by a ricochet bullet is totally reasonable.  The only thing unreasonable is Sarah Palin's willingness to condemn an man who happened to be Hispanic.