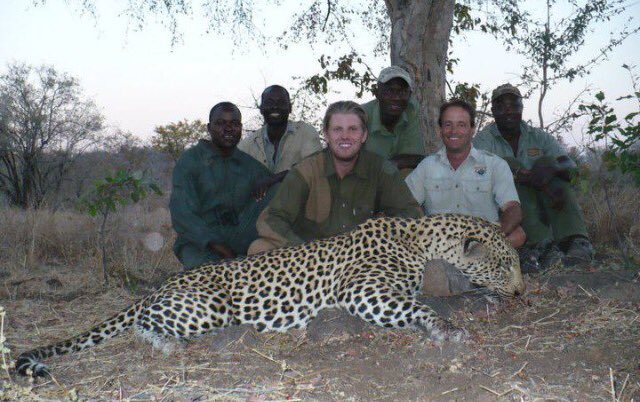 The truth is that Trump's sons are big game hunters and quite proud of it.  These photos demonstrate just how proud they are of their ability to kill animals with the help of many other hunters in Africa.  After watching an elephant being killed the President has now indicated he is conflicted about the killing of innocent animals.  The president's abrupt reversal Friday means that elephants shot for sport in Zimbabwe and Zambia cannot be imported by American hunters as trophies.
The focus of the President's decision related to elephants.  Amazingly  Donald Jr posed with the tail of an elephant which he appears to have just cut off. The pictures surfaced in 2012.
"Put big game trophy decision on hold until such time as I review all conservation facts," Trump wrote Friday evening on Twitter. "Under study for years. Will update soon with [Interior] Secretary [Ryan] Zinke. Thank you!"
That halted a decision by his own U.S. Fish and Wildlife Service on Wednesday to end a 2014 government ban on big-game trophy hunting in Zimbabwe and Zambia. Under U.S. law, the remains of African elephants, which are listed as threatened under the Endangered Species Act, can be imported only if federal officials have determined that hunting them benefits the species more broadly.
It is amazing that the Trump family could ever defend killing these amazing animals by suggesting that killing them would actually benefit the species.  The next thing expected from the White House is that Trump will issue an executive order allowing killing of African Animals by only those hunters who stay in the Trump Towers in Zimbabwe or Zambia and donate to the Donald Trump wildlife foundation operated by an anonymous Russian mobster.