Trump, like Sarah Palin, must reply on his/her success in the past, is corrupt, is a liar, has associated with people who plagiarize an Obama speech, and endorse losers.
It's 2017 and Sarah Palin hasn't been the Governor of Alaska in over 8 years.  Yet she still insists on being introduced as the Governor of Alaska.  Trump also seems to be unable to move from the past.  This is the twitter picture Donald Trump posted yesterday, on the anniversary of the 2016 election.  Obviously the picture suggests that Trump is still relying on something positive that happened long ago, in spite of his amazing drop in popularity.
He's been the President of the United States for a year and he's still talking about the victory.  His popularity in America has reached the lowest level for any President for the seven decades that polls have been taken.  Even for Trump, his popularity has reached an all-time low. 
Yet his tweet foceses on the "MASSIVE"  electoral college victory, even though he lost the popular vote.  He tweeted:
"Congratulations to all of the 'DEPLORABLES' and the millions of people who gave us a MASSIVE (304-227) Electoral College landslide victory!"
The Trump tweet came out Wednesday afternoon. (It was roughly 2:30 a.m. in Beijing — where Trump is at the moment — when the tweet went out, suggesting it was a pre-programmed tweet from someone on his team.)
The tweet indicates that (1) Trump is still talking about the victory of over a year ago. (2)  He seems to be oblivious to the losses in the 2017 elections.  (3) He love optics. (4) He's still in denial about the importance of diversity.
Palin has endorsed many losers.  Trump's endorsement of losers is becoming as notorious.
It's as if Trump is unaware that Democrats have the momentum across the country. It's as if he forgot that in special elections.  
President Donald Trump backed two Republican candidates for governor.  Both Lost!  Trump immediately began to distance himself from his own horrible loss.  "Ed Gillespie worked hard but did not embrace me or what I stand for," Trump tweeted Tuesday night after GOP candidate Gillespie lost badly in Virginia to Lt. Gov. Ralph Northam, by a nine-point percent margin. Counties where Trump ran well last year voted strongly for the Democrat, MSNBC reported, calling it "the Trump gap."   Lt. Gov. Kim Guadagno lost her race in New Jersey.  She ran with a version of Trump's nationalistic, often dark anti-illegal-immigration message. And neither saw it pay off.
In New Jersey more than 1/3 of voters said that government corruption was the top issue driving their vote.
That finding comes as approval ratings and favorability ratings for Republican leaders in Congress have dropped. Overall approval of the party's leadership is down to 20%, a new low in CNN polling back to 2008.
Palin's net favorability rating (favorable minus unfavorable) among all Americans1  dropped more than 40 percentage points, from +18 percentage points to -24 points by mid-2014. Her net favorability rating among Republicans declined more than 55 percentage points, from +83 percentage points to +27 points by mid-2013.
Palin and Trump are both  corrupt , but got elected by appealing to the voters' dismay at the level of corruption of politicians.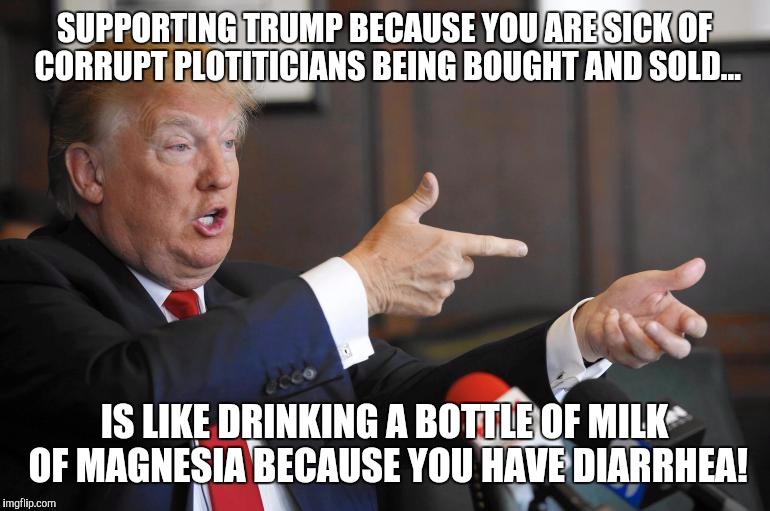 Palin and Trump are both chronic liars.
Both associated themselves with people who plagiarized a speech given by one of the Obamas.