President Trump responded to the shooting at the First Baptist Church in Sutherland Springs  Texas that left 26 people dead, and at least 20 more wounded.  The victims were people attending church, exercising their Constitutional rights to life, liberty, and the pursuit of happiness.  The victims ranged in age from 5 to 72, and among the dead were several children, a pregnant woman and the pastor's 14-year-old daughter.
"Our thoughts and prayers are with the victims and families of today's horrible and murderous attack." Trump said.   "All of America is praying to God to help the wounded and the families of the victims."
Not a word was uttered by our President about the cause of the shooting, the many people who have lost their lives in America due to deranged shooters armed with assault weapons, or the mentally ill people who are allowed to buy guns.
The facts surrounding the shooting are outrageous and painful.  Devin Kelley, the shooter, was chased and shot by citizens, not law enforcement.  Mr. Willeford opened fire at Kelly, hitting him in the leg and torso, but it appears that the shot the ultimately killed Mr. Kelly was a shot he inflicted on himself.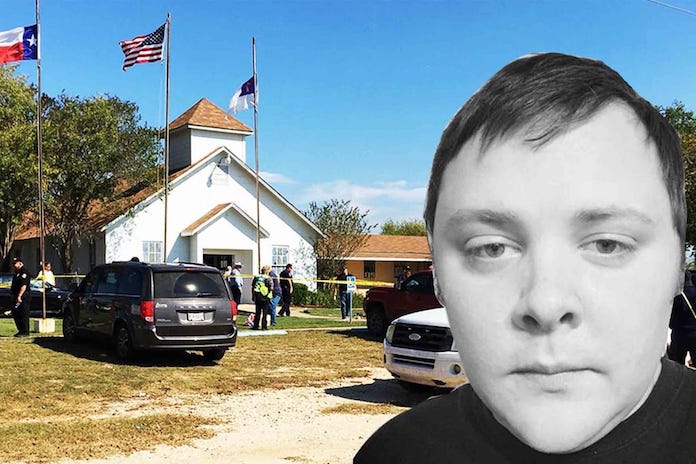 As of June 2016, U.S. President Barack Obama had given speeches on fourteen different mass shootings during his eight-year presidency, repeatedly calling for more gun safety laws in the United States.  After the Charleston church shooting, U.S. President Barack Obama said, "At some point, we as a country will have to reckon with the fact that this type of mass violence does not happen in other advanced countries. It doesn't happen in other places with this kind of frequency."  After the December 2015 San Bernardino attack, Obama renewed his call for reforming gun safety laws and also said that the frequency of mass shootings in the United States has "no parallel in the world".
Benjamin Franklin is credited with the quote: "God helps those who help themselves."
People of America, and our Congress, must help themselves deal with this deadly problem.  Gun activists and the NRA proclaim the importance of the 2nd Amendment.  However:
a.  The people killed in these mass shootings didn't have their 2nd Amendment rights…or any other…protected.
b.  The most fundamental right under the US Constitution is right to life, liberty , and the pursuit of happiness.  Nobody's 2nd Amendment rights should be considered more important than that.  In fact the 2nd Amendment was created to ensure the protection of life and liberty.  It is now being used to eliminate that right.
c.  The Second Amendment reads: A well regulated Militia, being necessary to the security of a free State, the right of the people to keep and bear Arms, shall not be infringed.
However the Second Amendment, like the entire Constitution is interpreted by the Courts to have a logical interpretation.  For example, the Right of Freedom of Speech has not been interpreted to include the right to lie under oath or yell "fire" in a crowded movie theater.
Our laws currently ban guns made of plastic, because they cannot be identified by metal detectors.  We don't allow citizens to possess weapons that could be used to attack an airplane.  In 1994, Congress and the President passed a bi-partisan assault weapons ban that outlawed private possession or sale of specific types of fully and semi-automatic weapons whose principle uses are to kill people, not to hunt or defend someone. That bill sunset in 2004, and the Republican Congress and Bush Administration refused to extend its provisions.
The reality is that gun control is a bi-partisan issue.  Broad majorities of more than eight in 10 Republicans and Democrats (and independents who lean toward each party) support blocking people who are mentally ill and people on federal no-fly or watch lists from buying guns.
84% of Americans support expanding background checks to include private firearm sales and purchases at gun shows, including a majority of Republican respondents. 84% of Americans realize that gun violence in America is out of control.  Something must be done.  Guns took more than 36,000 U.S. lives in 2015.  Since 1991, Americans have acquired 170 million new guns.
In a 2015 study using data from the FBI and the Centers for Disease Control and Prevention, for example, researchers at Boston Children's Hospital and Harvard University reported that firearm assaults were 6.8 times more common in the states with the most guns versus those with the least. Also in 2015 a combined analysis of 15 different studies found that people who had access to firearms at home were nearly twice as likely to be murdered as people who did not.
To make matters worse the incidence of mental illness in America is escalating out of control.  Every year, about 42.5 million American adults (or 18.2 percent of the total adult population in the United States) suffers from some mental illness, enduring conditions such as depression, bipolar disorder or schizophrenia.  It seems with this many mentally unstable people in America, we should have no difficulty passing more rigorous gun control laws, and certainly a ban on automatic weapons.  Yet, mentally unstable people continue to use automatic weapons to kill and injure innocent citizens,… including women, children and our response is to simply pray for them.  We've been praying for them for them since 2004 when the assault weapon ban expired, and the mass killings by mentally unstable people continue. We must take action NOW.  Devin Kelly didn't care if his victims were Republicans, Democrats, Independents, young, or old, white or black, members of the military, or even gun owners or not.  He killed without regard to the Constitutional rights of his victims, and regardless of whether any of the victims had wronged him in the past.
It is insanity to suggest that we can solve the problem of innocent people being gunned down in church by mentally ill people, by simply praying.  We have to be proactive to institute change if lives are going to be saved.  #bethechangeyouwishtoseeintheworld