Donald Trump doesn't have a hotel in Puerto Rico, so you might think Trump has had no financial interest in the US territory.  If you thought that, you'd be wrong.  Long before the hurricane hit Puerto Rico, Donald Trump had screwed people in Puerto Rico, and left US taxpayers holding the bag.  You probably knew about the 4 Bankruptcies that were filed by Trump companies.
However those 4 bankruptcies didn't include a golf course in Puerto Rico that Trump agreed to manage.  When the Trump International Golf Club in Rio Grande, Puerto Rico, filed for bankruptcy in July 2015 — just a month after Donald Trump launched his presidential campaign — Trump's family did everything they could to distance themselves from the failed project. "This has absolutely nothing to do with Trump. This is a separate owner. We purely manage the golf course," Eric Trump told Bloomberg at the time.
The truth is that Trump didn't own the golf course, he simply took a huge salary to "manage" the golf course.  The golf course was owned by Arturo Diaz Jr. and his family.  The property featured two 18-hole golf courses and a giant 46,000-square-foot clubhouse. Diaz brought in Trump to turn around the golf course in 2008. The Trump Organization claimed it had a plan "to attract customers and control operating expenses." But over the next five years, club membership hardly increased and never got above 63 paying members.
During the Trump management of the golf course,  the course's expenses increased 22%, including Trump's management fees, which were about 4.5% of annual revenues, or more than $600,000 by the end of 2012. Ultimately, with about $78 million in debt and only $9 million in assets, the golf club sold for $2 million.
The really outrageous part of this Trump enterprise was the price paid by US taxpayers.   As a result of the episode,
$32.6 million in government investment was not
recouped.
The people of Puerto Rico do not vote in the Presidential elections.  Thus the people in Puerto Rico who've been left hungry and thirsty by Trump have no recourse, even in the 2020 election.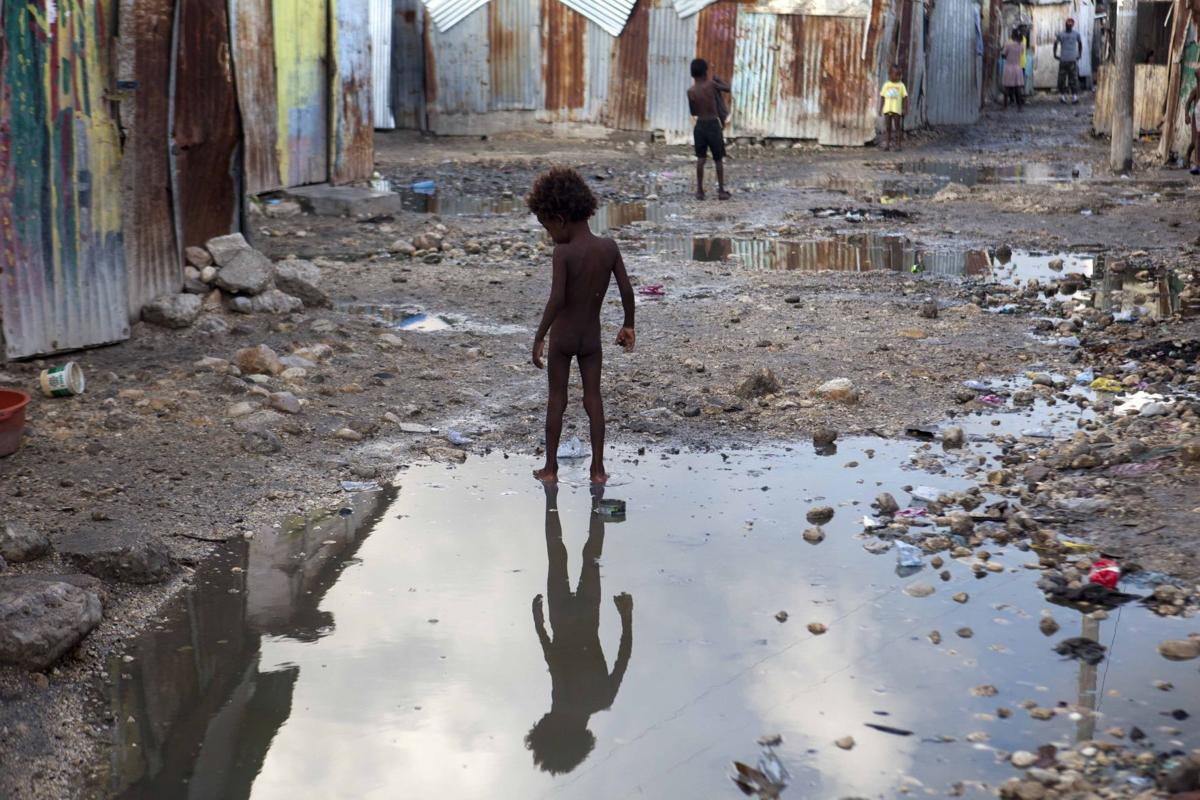 It's been three weeks since hurricane Maria hit Puerto Rico.  The death toll has risen to 48.   83% of the island remains without power.  Food resources are still unreliable.  People are drinking animal-tainted water and sharing dwindling improvisational supplies.  Veterans are  recording videos about hungry citizens.
When the government tells you to prepare for a storm, it cautions that "being prepared means having your own food, water and other supplies to last for at least 72 hours." Even the most vigilant citizens rarely keep more than seven days of supplies on hand. By any calculation, those citizens in Puerto Rico would have started running out of food and water 16 days ago.
The island's health care workers are facing a crisis exacerbated by diesel fuel shortages and low supplies of medicine.  Only 16% of the island has electricity. Gov. Ricardo A. Rosselló said the goal is to have 25 percent of the electrical system restored "within the next month."
About 67 percent of cell towers remain down and more than 80 percent of cellphone antennas aren't working.
More than 6000 people are living in 112 shelters.   Those with the means to leave have been abandoning their destroyed homes and flying to the United States. Officials say more than 100,000 people could end up in the Orlando area in the coming months,and may never leave.
Only 392 miles of the 5,073 miles of roads are open.
About 37% of people still don't have clean drinking water.
Some residents have received bottled water,  but as of last week distribution remained a challenge.
Three weeks after the hurricane Donald Trump focused on the plight of the people of Puerto Rico.  Trump spent valuable tweet time indicating that the people of Puerto Rico are going to have to shoulder more responsibility for recovery efforts from Hurricane Maria, saying the federal government's emergency responders can't stay there "forever."
Trump's aristocratic attitude was readily apparent when he blamed the  beleaguered island for a financial crisis "largely of their own making" and infrastructure that was a "disaster" before the hurricane.  The mayor of San Juan characterized Trump's tweets as  "unbecoming" and appeared to come from a "hater in chief."
Trump signaled the end of aid for Puerto Rico when he tweeted:
"We cannot keep FEMA, the Military & the First Responders, who have been amazing (under the most difficult circumstances) in P.R. forever!"
It seems that Trump has nothing to gain from Puerto Rico.  There is no golf course he can exploit, he has no property there, he has no management fee, and the people who live in Puerto Rico have brown skin.  Of course his is orange.
As Trump threatens to cut off aid, the water situation in Puerto Rico is so dire that the EPA  reported that residents on the island have reportedly been trying to obtain water from Superfund sites — which are bodies of water contaminated by hazardous waste. The EPA advised against "tampering with sealed and locked wells or drinking from these wells, as it may be dangerous to people's health."
Puerto Ricans are not illegal immigrants.  They are not Muslims Trump tried to ban.  They aren't NFL players who took a knee during the national anthem.  Most don't know how to play golf.  Most have never seen a Rolls Royce.
Most have never been on a helicopter, much less owned one.
Most have never even seen the inside of a private jet.
Most Puerto Ricans simply want clean water to drink, and enough food to keep their children from starving.  They can't even afford the price of admission to a movie about the life style of the President of the United States.