The internet is a-buzz today because the President of the United States thought it would be funny to retweet the gif of him playing golf and hitting Hillary Clinton in the back as she boarded a plane. The first thing you might notice about the original tweet is the name of the person that he has given himself.  The reference to "Trump's amazing golf swing" appears to be sarcastic.  However by retweeting it, Trump obviously thinks the person with the "fuctupmind" is being serious about what a great swing Trump has.
Here is the original tweet from "Mike@Fuctupmind".
This is the gif:
As the gif reveals, Trump is wearing white and a dark sports coat.  He is obviously wearing a sports coat to attempt to hide his girth.  However the sports coat is a poor way to disguise his waist size.
The is the image of Trump found under a search of "fat golfers" on Google Images.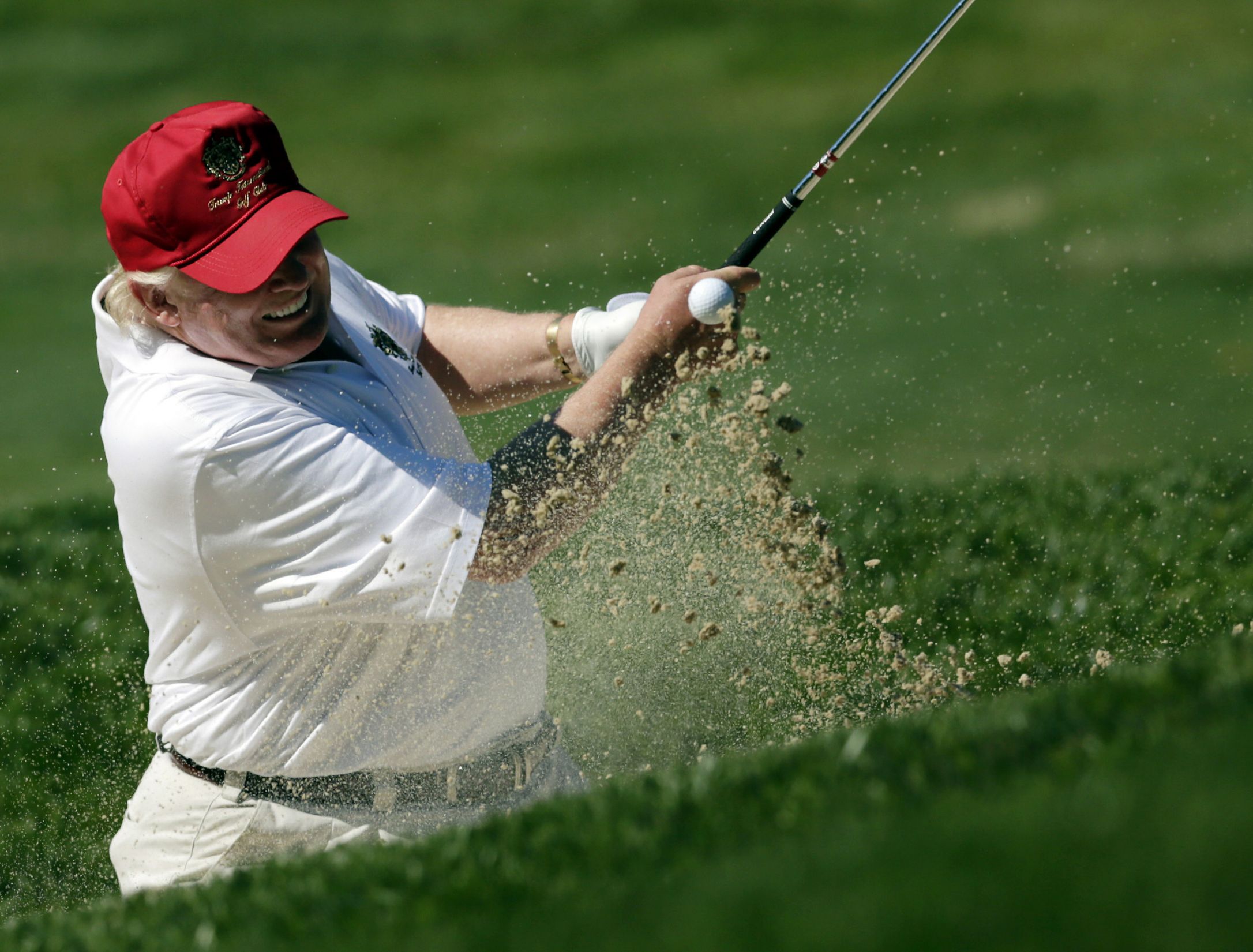 These are others.
Though it's usually a taboo topic, the president has made a habit of commenting on people's weight. Last May, while supporting New Jersey Governor Chris Christie at a fundraiser, Trump announced he'd be avoiding Oreos from then on. Then he singled out Christie.
"I'm not eating Oreos anymore, you know that—but neither is Chris," Trump said. "You're not eating Oreos anymore. No more Oreos. For either of us, Chris. Don't feel bad."
Trump has also spoken up about celebrities' weights.  He called Rosie O'Donnell a "fat pig."  He commented on Kim Kardashian by saying that she had "gotten a little bit large" when pregnant. A focal point of Democrat Hillary Clinton's campaign came when she teamed up with Alicia Machado, a former Miss Universe, who Trump described as "Miss Piggy." Trump said she couldn't lose weight by working out because "she'd eat the whole gymnasium."
In 2005, he even said his then-pregnant wife Melania Trump was a "blimp."
As the whole country focuses of Trump's retweet of the school-boy-image of Trump hitting Hillary, we laugh at Trump.  Hillary can't control what Trump does.  However Trump can control what he does, and by bringing attention to the clip, he is the one who looks foolish.  Who plays golf in a sports coat?