It's been over a year since we've heard about Trump's ties to Russia.  For anyone interested here is a revealing time line of Russia related events.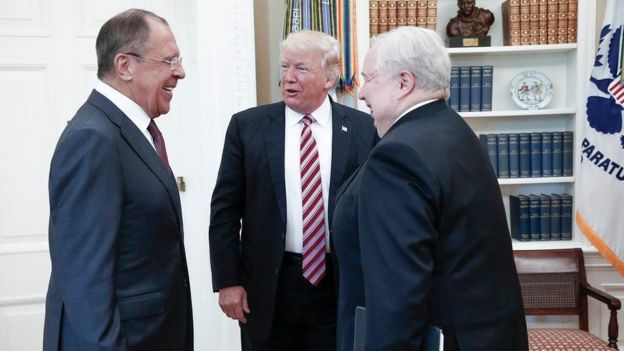 Here is a summary of more recent developments, in case it was hard to keep up.
 Special counsel Robert Mueller is now working with New York Attorney General Eric T. Schneiderman.  The significance of Schneiderman being involved is that he can bring state criminal charges.  Trump is not empowered to pardon a criminals convicted of violation of State laws.
It was revealed that Trump signed a letter of intent to license his name for a Trump Tower project in Moscow in October 2015, when polling had Trump leading the GOP presidential field. This nugget came from Michael Cohen, Trump's personal attorney, who reached out to Putin's personal spokesman for help in reviving the flagging deal in January 2016, a time when Trump was saying kind words about Russia's strongman.
Working the deal was Felix Sater, a mob-connected Russian émigré and longtime friend-business associate of Trump. Sater, who's been convicted of fraud, worked on several real estate deals with Trump. In emails to Cohen, Sater said a Trump Tower in Moscow would help Trump's candidacy. "Our boy can become president of the USA and we can engineer it," Sater wrote. "I will get all of Putins team to buy in on this . . . "
Mueller is working with IRS criminal investigators, who focus on financial crimes like money laundering and tax evasion. That would suggest the Mueller has Trump's tax returns.
Mueller has obtained a letter drafted by Trump and adviser Stephen Miller explaining why the president wanted to fire FBI Director James Comey.  White House counsel, Donald McGahn, blocked the duo from sending the letter to Comey because McGahn found problems with its content.
Russian-American lobbyist Rinat Akhmetshin testified before a Mueller grand jury about the June 2016 meeting he attended with Donald Trump Jr., Manafort and Trump son-in-law Jared Kushner, at which the president's son expected to be given damaging information about Hillary Clinton allegedly as part of the Russian government's attempt to help Trump.
The longer the investigation drags on, and the more we are overwhelmed with names, dates, and further questions, the harder it is to stay focused on the Russia investigation.  Many Americans seem to have lost interest.  However Robert Mueller is not one who has lost interest.  Here is a summary of recent revelations that are worthy of note:
Additional documents, whose existence was revealed for the first time, included meeting notes taken by the former Trump campaign chairman Paul Manafort, and a letter of intent reportedly signed by Trump to build a tower in Moscow.  These documents undercut previous statements by the president, his son and others about relationships now under investigation.
Trump lawyers submitted memos to Mueller arguing that the president did not obstruct justice by firing the former FBI director James Comey. Those memos were probably not written in a vacuum.  The implication is that Trump is under investigation for obstruction of justice.
Mueller may review reports from this week that Trump had directly contacted the chairman of the Senate judiciary committee after it was announced that Trump's son, Donald Trump Jr, was scheduled to speak with the committee.
Mueller may be considering a report that came out this week indicating that before pardoning the Arizona sheriff Joe Arpaio, Trump asked the US attorney general, Jeff Sessions, whether it would be possible to drop federal criminal charges against Arpaio.
The New York Times reported that Mueller was in possession of a draft letter explaining Trump's rationale for firing Comey. The draft was reportedly written by Trump and an aide, Stephen Miller, but rejected by the White House counsel, on unknown grounds.  Former US attorneys judged the draft letter and its possession by Mueller as significant. "Logical assumption: If WH Counsel wouldn't let him send it, [Trump] had improper if not illegal motives for firing FBI Director Comey," wrote Joyce Vance, a former federal prosecutor in Birmingham, Alabama, and now a University of Alabama law professor.
The Washington Post reported Monday that during the campaign, Trump's lawyer Michael Cohen wrote an email to an aide to Russia's president, Vladimir Putin, asking for help with a real estate deal.
During the presidential campaign, Trump signed a non-binding letter of intent to build a tower in Moscow, Cohen confirmed in a statement to ABC News. Trump claimed during the campaign that he "knows nothing about Russia" and had "no loans" and "no deals" there.
Information has surfaced that Manafort took notes, which are now in the possession of Mueller, about a June 2016 meeting at Trump Tower arranged by Trump Jr, who expressed eagerness to receive damaging information about Hillary Clinton,  reported just this week.
The details of any Trump deal or debt with a Russian connection are not publicly known.  However, another headline this week indicated that Mueller may have gained insight on the subject. According to a Daily Beast report on Thursday, the special counsel has enlisted the help of agents from the criminal investigation unit of the Internal Revenue Service.  "I think he got everybody's tax returns," said Mariotti, now a defense attorney at Thompson Coburn in Chicago.
Given the number of recent revelations about the Russia investigation, it is clear that regardless of the public's lack of interest, Robert Mueller has not lost interest is proving Trump's ties to Russia, and a possible Obstruction of Justice claim.