"Too Sick to Lead" was the headline that screamed across the internet the beginning of June of 2017.  That was only a couple of weeks after the appointment of Robert Mueller as special council appointed to investigate the Trump/Russia/hacking scandal.  In that article we learned about characteristics of a narcissist that included:
 An exaggerated sense of self-importance.
An unwarranted belief in your own superiority.
A preoccupation with fantasies of your own success, power and brilliance.
A craving for constant admiration.
A consuming sense of entitlement.
An expectation of special favors and unquestioning compliance.
A penchant for exploiting or disparaging others.
A total inability to recognize the needs of anyone else.
An incapacity to see those you meet as separate human beings.
An unreasoning fury at people you perceive as thwarting your wishes or desires.
A tendency to act on impulse.
A superficial charm deployed to disguise a gift for manipulation.
A need to always be right.
A refusal to acknowledge error.
An inability to tolerate criticism or critics.
A compulsion to conform your ever – shifting sense of "reality" to satisfy your inner requirements .
A tendency to lie so frequently and routinely that objective truth loses all meaning.
A belief that you are above the rules.
An array of inconsistent statements and behaviors driven by your needs in the moment.
An inability to assess the consequences of your actions in new or complex situations.
Certainly Donald Trump was the poster child for a person with Narcissistic Personality Disorder.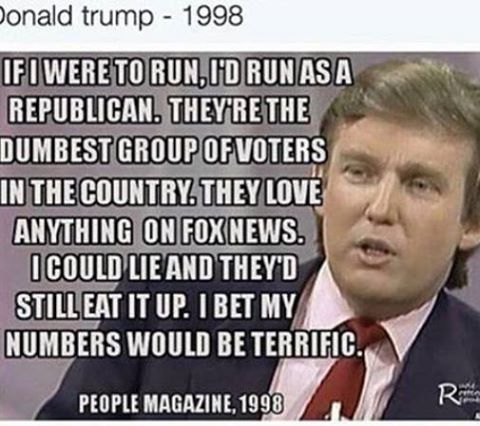 In spite of the disturbed behavior of Donald Trump, it seemed that the one thing we could count on was Trump's confidence in family.  From the many associations and appointments of family members to his staff, it seemed clear that Trump was unwilling to trust anyone else to be so close to him.  Yet, now Trump seems to be turning on even his family.
In May, after the firing of James Comey, the President was reported to have become angry and agitated with his son-in-law Jared Kushner.
"His own mood, according to two advisers who spoke on the condition of anonymity, has become sour and dark,"
Trump was "turning against most of his aides — even his son-in-law, Jared Kushner — and describing them in a fury as 'incompetent,' according to one of those advisers."
Now People magazine reports that the Trump family is in turmoil once again.  It's the cover-story in  Peoplemagazine.
People reports that  Trump was not happy when Trump Jr. admitted he messed up by attending a meeting in Trump Tower with lawyer Natalia Veselnitskaya and a Russian lobbyist in 2016.
Now, Trump's oldest son, Donald Trump Jr., is reportedly "miserable" and "he can't wait for these four years to be over."
Publicly the  President defended  Don Jr. saying he is a "good boy"  The President defended the  meeting suggested that because "nothing happened with the meeting," there was nothing wrong with Trump Jr. meeting or colluding with Russian agents.  However People reports that performance is what matters to the Donald.
Forget for a moment the substance of the issues before the country surrounding the Russian investigation.  Forget for a moment the inappropriateness of Trump appointing his children to his administration.  The fact that he did it is undisputed.  Now as the Donald turns on his own children as they are criticized, it is clear that Trump has no loyalty to even his own children.  As the kids are criticized, Trump distances himself from them. The characteristics of a narcissist are more obvious than ever as Trump criticizes his own children who he appointed to run his campaign and now his cabinet.  It appears Trump is refusing to acknowledge error, and has an inability to tolerate criticism or critics.  These attributes are more obvious than ever when it is his children that he has begun to distance himself from, and who he blames for any missteps.