Donald Trump is a serial liar.    In fact the Donald proudly admits he lies often, with amazing success.  In the Art of the Deal Trump described his lies as "truthful hyperbole."  So it comes as no surprise that Trump seems to have surrounded himself with politicians who revere the truth with equal disdain.  It seems that truth is only important to people in the Trump administration if it helps accomplish their goals.
The best example of the proclivity for lying among Trump's most trusted appointees is Jeff Sessions.  Here is a brief summary of Sessions' background:
His hardline views on immigration and other issues often kept him outside the locus of decision making. But it made him a favorite of the right, and especially its ascendant nationalist wing, where he found common cause with Steve Bannon's Breitbart News to fight the Senate's bipartisan immigration reform bill in 2013.
While many party officials kept their distance from Trump during the early days of the GOP presidential primary, Sessions became one of Trump's earliest, most vocal, and most important supporters.
Trump named Sessions as chairman of his campaign's foreign policy advisory committee, and later considered him for the vice presidential slot. After he won the November election, Trump appointed Sessions to head the Department of Justice.
Sessions was one of Trump's most controversial cabinet picks, with civil rights groups accusing the then-Alabama senator of having made racially-offensive comments and Democrats accusing Sessions of being compromised by Russia ties.
Sen. Cory Booker, D-New Jersey, underscored Democrats' unusually strenuous objections when he broke with decades of precedent to become the first senator in history to testify against a fellow senator during Sessions' confirmation hearing.
Democrats however, were powerless to block Trump's appointees, and Session was confirmed on a mostly party-line vote of 52–47 in early February. 
Under pressure about the undisclosed meetings, Sessions announced in March that he would recuse himself from the Department of Justice's ongoing investigation into Russian meddling in last year's election.
However Sessions seems to have selective memory about his involvement with Russians.  He also seems to act totally arbitrarily in determining what involvement he can or should have with the Russian investigation.  For example he previously recused himself from the Russian investigation and then involved himself in the firing of James Comey.
Session has lied, not only in interviews, but while under oath.
Sessions lies even in written answers.  In January, Sen. Patrick J. Leahy (D-Vt.) asked Sessions for answers to written questions. "Several of the President-elect's nominees or senior advisers have Russian ties. Have you been in contact with anyone connected to any part of the Russian government about the 2016 election, either before or after election day?" Leahy wrote.
Sessions responded with one word: "No."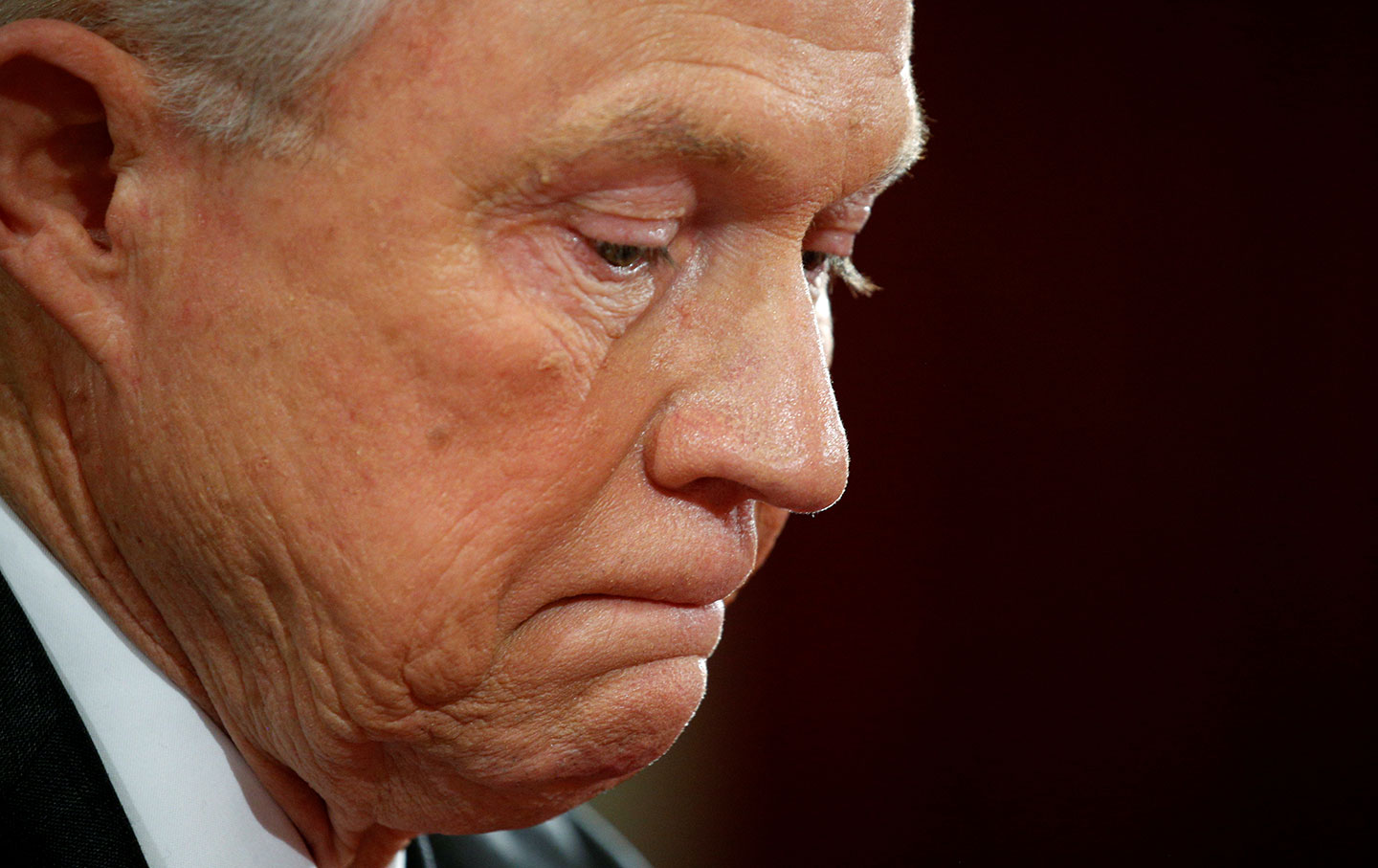 In fact, last year Sessions had more than 25 conversations with foreign ambassadors as a senior member of the Armed Services Committee, including the British, Korean, Japanese, Polish, Indian, Chinese, Canadian, Australian and German ambassadors, in addition to Kislyak.
Sessions has tried to explain his lies by differentiating his involvement with Russians, arguing that his involvement with Russians as part of his involvement in the Armed Services Committee was different than his involvement with the Trump campaign.  However that distinction is also a false narrative.  The Washington Post contacted all 26 members of the 2016 Senate Armed Services Committee to see whether any lawmakers besides Sessions met with Kislyak in 2016. Of the 20 lawmakers who responded, every senator, including Chairman John McCain (R-Ariz.), said they did not meet with the Russian ambassador last year. The other lawmakers on the panel did not respond as of Wednesday evening.
Session lied under oath last week in a second session of testimony before Congress.  This time it isn't the media or the Democrats who have accused him of lying.  Now a lobbyist for Russian state-owned businesses says he attended two dinners hosted by Jeff Sessions — contradicting a key claim the U.S. Attorney General made during his Senate testimony this last week.  Richard Burt told The Guardian on Thursday that he went to two events with Sessions and former GOP officials during the 2016 campaign.  But Sessions said in his hearing that he did not "believe" he had contacts with any lobbyists working for Russia during the presidential race.  So Sessions has lied under oath on two separate occasions, both in public hearings before Congress.
But the problem with Sessions goes well beyond Russia. He's put the Trump administration on the wrong side of every major issue when it comes to civil rights, the Constitution, and the rule of law.  Before Sessions was even confirmed, he "lobbied for a 'shock-and-awe' period of executive action," according to The Washington Post, which included the Trump administration's disastrous Muslim ban.  He's reversed the Obama administration's positions on voter-ID laws, private prisons, transgender rights, police abuse, and marijuana legalization.  He gave a speech on Black History Month at the Department of Justice, where he praised the Voting Rights Act on the same day the Justice Department argued in federal court that Texas's voter-ID law did not intentionally discriminate against black and Latino voters.  Sessions previously claimed he "personally" handled important civil-rights cases while US Attorney in Alabama, even though lawyers in the Justice Department's Civil Rights Division said he did no work on the cases.
 Sessions was blocked as a federal judge in 1986 for a history of discriminatory actions and views—including wrongfully prosecuting civil-rights workers for voter fraud—and there's no evidence Sessions has changed since then.

"I don't lie, I'm too truthful – it gets me in trouble."  (14:10-Trump in this video)
At a time when Trump's credibility is the subject of national attention, Trump's association with, and promotion of, liars lends more discomfort with the believably of anything Trump might say. Trump said "I don't lie, I'm too truthful."  Trump lies about not being a liar.  However Trump hasn't lied under oath, but Sessions has.  Perjury is a federal crime.  A criminal who commits perjury can be put in prison fo
r five years.  
  If Trump makes it to a second term, he may not be able to appoint Jeff Sessions as his Attorney General as Sessions may still be in jail.