A picture really is worth a thousand words.  Trump bragged about the record turnout for his inauguration.  However the comparison pictures of the Trump inauguration and the Obama inauguration told the real story.
Now a Twitter Battle has broken out between Trump and the NY Times.  Here are the Tweets:
Patriots' turnout for President Obama in 2015 vs. Patriots' turnout for President Trump today: http://nyti.ms/2o4Kwj7
Failing @nytimes, which has been calling me wrong for two years, just got caught in a big lie concerning New England Patriots visit to W.H.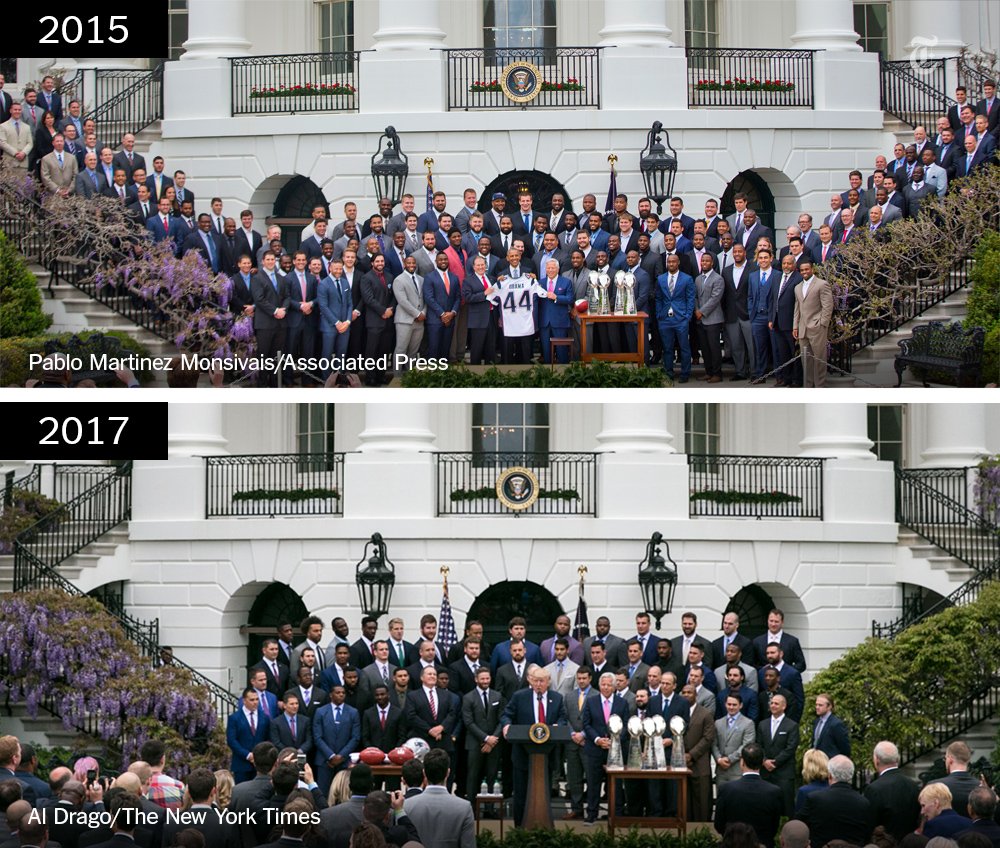 The Patriots responded on Twitter that the photos lack context, saying football staff sat on the South Lawn instead of standing on the stairs this year. Team spokesman Stacey James told the Boston Globe the White House chose to have the staff sit.
But the reality is that:
 Tom Brady didn't come to the White House to meet Trump.
The New England Pats admitted that fewer players attended this year than when Obama was President.  In all, 34 players were present for the Trump ceremony, a total similar to the team's past visits in 2004 and 2005 but noticeably fewer than in 2002 and 2015.
The primary difference between the photos is that the Patriots staff was included in the Obama photo and the staff is not present in the Trump picture.
The significant difference is that the White House "chose to have the staff sit" this year, signaling Trump's attitude that he didn't want to be associated with someone as insignificant as the staff. Obama, being a President of the people, invited everyone to join in the photo.
There is another significant difference.  Look at the complete joy in the faces of the players and the President.  Everyone is seen smiling with President Bush, and Bush himself is genuinely enjoying himself.
Likewise with President Obama, everyone was having a great time.
President Trump appears to have a forced happy face.  The players that surround him appear to be anticipating root canals later in the day!