At least as early as 2001 people coined the phrase
"fight like a girl.

"  It was May of 2001 that the LA Times featured an article by the title of "Boy, You Fight Like a Girl."
In 2001 Sarah Palin was still the Mayor of Wasilla!
It was June of 2009, about the time Sarah Palin was announcing her resignation as Governor of Alaska, that a Group by the name of  "Bomshel" released a song by the name of "
Fight Like a Girl

."
In March of 2016 Laura Barcella published a book with the title "Fight Like a Girl."
In September of 2016 Clementine Ford published her book by the same name, "Fight Like a Girl."
In June of 2013 April Steenburgh and Christy Lennox published their book by the same name, "
Fight Like a Girl."

 In August of 2013 Alex Ramirez published an article in Influential Magazine entitled "Be Brave and
Fight Like a Girl

."  The article was highlighting the fourth annual "Be Brave and Fight Like a Girl" party to be held in Austin Texas.  The party was being held to honor women who had fought breast cancer.  That means the first "

Fight Like a Girl"

party was held in

2009.

There is a Fight Like a Girl foundation.  Ironically it is a support group for women battling cancer and other serious illnesses, who could not afford medical treatment, families who had to trim down their grocery list to pay for prescriptions, and women who went years without mammograms because they didn't have the money to pay for one.
Of course Sarah Palin wouldn't know about that foundation since she gets her health care from government funded subsidies.
 There are Fight Like a Girl t shirts.
In 
December of 2015
 another
"Fight Like a Girl
" song was released.  This one was by Kalie Shorr.
Clearly the phrase
Fight Like a Girl
has been around a long time, most people have heard it in some context, and most people don't attribute the phrase to one person.
Elizabeth Warren posted this picture to her twitter account with the phrase "
Fight Like a Girl."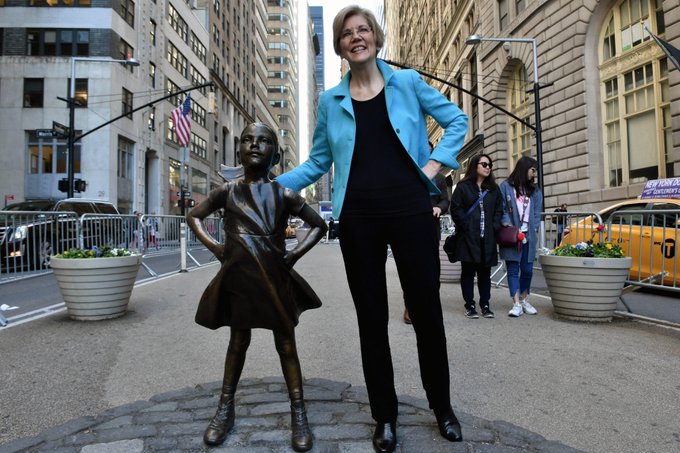 Apparently Palin thinks that she coined this particular phrase when she started using it back in
2011 during Tea Party rally speeches, and she tells Breitbart News that she doesn't appreciate Warren using it without giving her credit.
Palin said:
"Coming from liberals who urge women to claim victimization, 'Fight like a girl' just doesn't sound the same as when legit fighters for equality say it, mean it, live it, and will never give it up." 
Warren told NPR that she was inspired to use the phrase "fight like a girl" after seeing a young woman holding a sign with that phrase during the women's march in Boston this year.
Ironically women around the world have turned out to protest Trump's outrageous treatment of women.  It was Palin who endorsed Trump, and it is Trump who inspired women like Elizabeth Warren to stand up and demand that every woman FIGHT LIKE A GIRL!
It is ludicrous, offensive, and an illustration of Sarah Palin's delusional perception of herself to suggest that Elizabeth Warren was quoting Sarah Palin.  It's just plain stupid for Sarah to comment about this without doing a little homework.  Obviously she should be embarrassed to take credit for the phrase.  She should be even more embarrassed to suggest that has ever been an advocate for women.  Palin's comments suggesting Elizabeth Warren was quoting her is on par with Palin's remark that Paul Revere was warning the British.
Sarah Palin is a woman but she doesn't represent women.  Women are fighters.  Sarah Palin is a quitter.