Sarah Palin and Donald Trump are unafraid to play the role of attack dogs.  They have each frequently expressed outrage on topics they know nothing about.  Palin has been quick to condemn the United Nations when it helped create the appearance that she was acting for religious reasons.
"Palin's threat to punish the UN for its resolution on Israel is an echo of the message that has been repeated throughout the week by Republicans including Donald Trump, Ted Cruz, John McCain, and Lindsey Graham. America currently contributes 22 percent of the UN's budget, and while it is legally committed to continuing to do so, this could theoretically be changed by law."
Yet when it comes to condemning the United Nations for empowering child rapists and abusers, both Palin and Trump have been conspicuously quiet.
The United Nations has released another in a series of reprehensible revelations about rape and sexual abuse carried out by peacekeepers—both U.N. forces and others.  These occurred in the Central African Republic.  These crimes involved at least 12 children,  aged from 7 to 16.
Fox News reported this week that the U.N.'s Department of Peacekeeping Operations has informed countries that supply troops and police of 24 separate allegations of sexual exploitation and/or abuse since July 1 alone.
The unforgivable part of the scandal is that it represents business as usual at the United Nations.  Anthony Banbury, the U.N.'s Assistant Secretary General for Field support reported six new cases of abuse. They involved six children  from the battered CAR–an epicenter of the sex abuse scandal. Banbury also said the total number of allegations involving U.N. forces world-wide this year was likely to be 69.  That's double the number that  they have made public so far.
The United Nations has been the subject of a scathing indictment by an independent panel of investigators which identified U.N. inaction and cover-up of allegations of sexual abuse.
Every single year, pedophilia, sexual abuse, and sex trafficking rates increase. The International Labor Organization estimates that there are 20.9 million human trafficking victims worldwide and 4.5 million people trapped in forced sex trafficking around the globe. At least 100,000 children are prostituted annually in the U.S., adding to the $9.8 billion U.S. sex trafficking industry.  The involvement of the United Nations' "peace keepers" is particularly revolting as they are the ones who are supposed to be providing relief to people who are already the victims of disaster.
One child explained "I did not even have breasts."  This child was forced to have sex with approximately 50 peacekeepers over a period of three years, between the ages of 12 and 15. One of the perpetrators was a "Commandant" who she said gave her 75 cents in exchange for sex. A young boy, was 15 when he was first sexually abused by a UN peacekeeper. Over the next three years, he was forced to have sex with over 100 Sri Lankan peacekeepers, on average four times per day.
Some of the abuse occurred in Haiti.  Palin was in Haiti,  with Todd.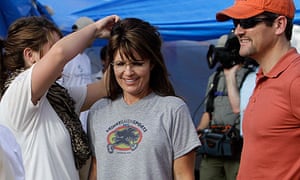 It is unclear if Todd was there to assist in the relief efforts or the sexual abuse of children.
Officials have known that Haitian children were being abused by UN peacekeepers, and no one has done anything about it. It's not that none of these children are coming forward, it's that no one has bothered to hold the perpetrators responsible for their actions, including the UN.
In one case, an 11-year-old boy was gang-raped by a group of Uruguayan UN peacekeepers, who actually filmed their actions on a cell phone. The video ended up going viral, and despite this important piece of evidence, none of the perpetrators went to trial in Haiti and only four of the five were convicted of "private violence" in Uruguay, a far lesser charge than they deserved. .
In March of 2016 reports of sexual exploitation or sexual abuse by United Nations peacekeepers rose by a third from the previous year.  There were 69 claims against peacekeepers in 2015, up from 52 in 2014, and 66 in 2013.
Given the allegations against Trump for sexual abuse of children, it isn't too surprising that he has failed to comment.
Charges of rape and sexual harassment have followed Donald Trump for the last 40 years.   Last year, a woman filed a lawsuit against the then-GOP presidential candidate alleging he violently raped her when she was 13 years old. Another woman, Jessica Leeds, said Trump fondled her breasts and tried to put his hand up her skirt on a flight in the 1980s. "He was like an octopus. His hands were everywhere," she told the New York Times in October last year. "It was an assault."
Trump hasn't even attempted to distance himself from convicted rapists.  He was a proud friend of Mike Tyson.
Jeffrey Epstein, a convicted child rapist, was a member of Trump's Mar-a-lago Resort.  Trump praised Epstein saying:
"I've known Jeff for 15 years. Terrific guy," Trump told New York Magazine back in 2002. "He's a lot of fun to be with. It is even said that he likes beautiful women as much as I do, and many of them are on the younger side. No doubt about it — Jeffrey enjoys his social life."
Human trafficking is a form of modern slavery—a multi-billion dollar criminal industry that denies freedom to 20.9 million people around the world. And no matter where you live, chances are it's happening nearby. From the girl forced into prostitution at a truck stop, to the man discovered in a restaurant kitchen, stripped of his passport and held against his will. All trafficking victims share one essential experience: the loss of freedom.
The International Labour Organization estimates that there are 20.9 million victims of human trafficking globally.
68% of them are trapped in forced labor.
26% of them are children.
55% are women and girls.
The International Labor Organization estimates that forced labor and human trafficking is a $150 billion industry worldwide.

Not only has Trump remained silent about the recent UN sex scandal, but his views about convicted rapists illustrate the problem.  It also appears Trump has gone out of his way to reward people who cover up such scandals.  President Donald Trump's new nominee for secretary of labor, Alexander Acosta, is just such a person.    Trump has nominated Mr. Acosta as his Secretary of Labor.  While Mr. Acosta was the top federal prosecutor in Miami he cut a sweetheart plea deal in 2008 with a billionaire investor accused of having sex with dozens of underage girls.  That was the friend of Trump who Trump described as a "great guy."